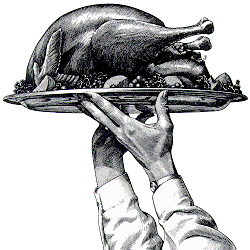 Now with recipe links!
Appetizers: (going light this year!)
* Orange (or Tangerine) Marinated Green Olives (From the book, The New Spanish Table by Anya von Bremzen)
* Rosemary Cashews — scroll down for recipe
* Pumpernickel Crostini with White Bean Puree & Smoked Salmon (Just a few!!)
White Bean Puree:
Adapted from a recipe by Tyler Florence
Extra-virgin olive oil
2 cloves garlic
1 tsp anchovy paste
1 (14-ounce) can white cannellini beans, drained
1/4 cup chicken stock, heated
1 tsp white wine vinegar
Kosher salt and freshly ground black pepper
In a saucepan add tablespoon of extra-virgin olive oil over medium heat. Add the garlic and anchovy paste and sweat for 1 minute until fragrant. Add the beans followed by the warm chicken stock and cook until heated through. Transfer the mixture to a food processor or blender and puree with a splash of white vinegar, salt and some freshly ground black pepper. Thin with extra stock if the puree is too thick. Give it a final taste and adjust seasoning, if necessary.
The Main Event:
* Cornish Game Hens (ATK recipe) with Apple, Hazelnut & Sausage Stuffing and Hen Drippings / Apple Cider Jus (Something like this)
* Caramelized Root Vegetables with Chestnuts, Garlic & Thyme
* Brussels Sprouts with Lemon & Pistachios
* Butternut Squash Polenta with Sage & Parsley Pesto — Just making this up as I go along, Pesto will probably be based on this
* Awesome Martha Stewart Cranberry Relish That I make Every Year
Dessert(s)! (Whee! Pick a Dessert!) At least, as of right now, I think there will be two –(mainly because I can't decide, and it's not like everyone has two, you just get to pick now. Or have two. Whatever.)
* Goat Cheese, Honey & Apple Tartlets
Why yes. Yes I am taking Wednesday off of work! Why do you ask?
Skipping this year: mashed potatoes, a heavy gravy and sweet potatoes (unless I throw some in with the root vegetables). We'll see how that goes…