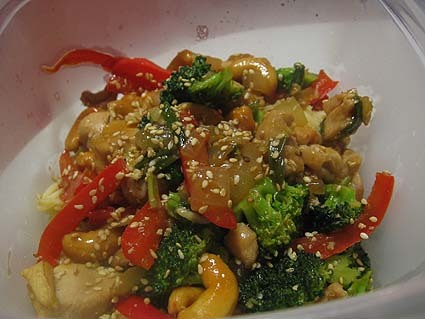 Ah, if there's one thing that's bad about the holidays it's going back to work after a 5-DAY weekend. Oh, that's harsh. Okay, and so is doing all the dishes. That's kind of bad too. But I made coffee press after dinner on Thanksgiving and jwa and I had no problem staying up that night and doing like 4 loads of dishes. I wonder why…
We had a very nice Thanksgiving and except for my super-dense, didn't-seem-to-rise-too-much rolls, everything seemed to turn out pretty well. Kinda sucks I forgot to take any pictures of the food or the people.
::clever segue:: But anyway, this here is something that I like to make for lunches occasionally. It works really well to go right from the pan to a lunch container and then the next day, when you get hungry, you remember you have something good for lunch and it makes you all happy!
Chicken and Cashew Stir-Fry
Recipe adapted from Gourmet magazine
1 bunch scallions, white and green parts chopped
1 pound skinless boneless chicken thighs
1/2 tsp salt
1/4 tsp black pepper
3 tablespoons vegetable oil
1 red bell pepper, chopped
1 bunch broccoli florets. chopped
3 garlic cloves, finely chopped
1 1/2 tbsp finely chopped peeled fresh ginger
1/4 tsp dried . . . → Read More: Chicken and Cashew Stir-Fry for Lunch