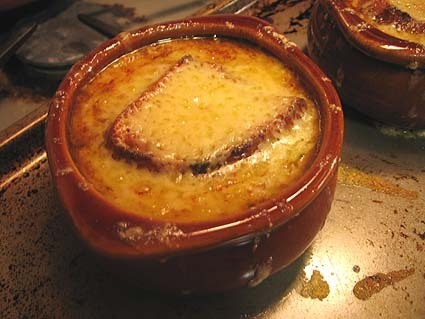 This is seriously good cold weather fare. It's probably best left for a weekend project but it is so worth the two hours or so it takes to pull it off. I have always wanted to make French Onion Soup and am really glad I finally gave it a try. jwa is glad too.
The recipe is from The Way to Cook by Julia Child. The only change I made was adding two thyme sprigs while cooking the onions. It's also very easily halved for two, which is what I did, as there is only the two of us. Actually, our one cat Chelsea would probably like a bowl, but I can't image that would end well.
So…two servings it is.
French Onion Soup
Serves 4 as written below
1/2 stick butter
1 tbsp olive oil
8 cups thinly sliced onions (about 4 medium to large onions)
4 sprigs of fresh thyme
1/2 tsp salt
1/2 tsp sugar
1 tbsp flour
8 cups homemade beef stock, or good quality store bought stock
1/4 cup Cognac, or other good brandy (I used Calvados)
1 cup dry white wine
4 (1/2-inch) thick slices of French bread, toasted
3/4 pound coarsely grated Gruyere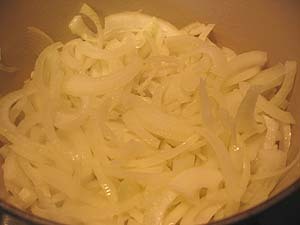 Heat a heavy saucepan over medium heat with the butter and oil. When the butter has melted, stir in the onions, cover, and cook slowly until tender and translucent, about 10 minutes.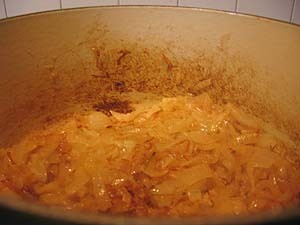 After about 10 minutes browning time
Blend in the salt and sugar, increase the heat to medium high, and let the onions brown, stirring frequently until they are a dark walnut color, 25 to 30 minutes.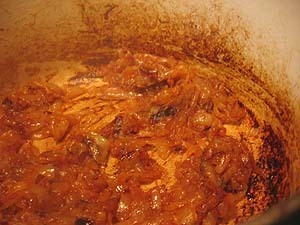 After 25 minutes
Here I regulated the temperature a bit, going between medium and low, depending on the coloring of the onions. You don't want to burn them, so go slowly and turn it down if it starts to burn at all. I also added in two sprigs of thyme while browning the onions.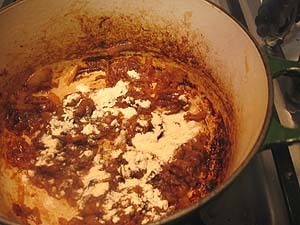 Sprinkle the flour and cook slowly, stirring, for another 3 to 4 minutes.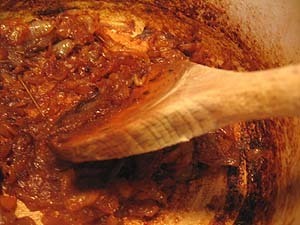 Remove from heat, let cool a moment, then whisk in 2 cups of hot stock. When well blended, bring to the simmer, adding the rest of the stock, Cognac, and wine. Make sure you scrape up all the brown goodness from the bottom of the pot. Use a wooden spoon or a heat-proof rubber spatula.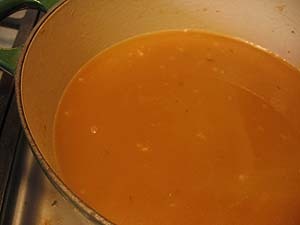 Cover loosely, and simmer very slowly 1 1/2 hours, adding a little water if the liquid reduces too much. Taste for seasoning (salt and pepper — you will need some). All the little thyme leaves will have fallen off the sprigs by now. Pull the thyme sprigs out.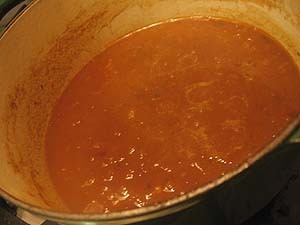 Divide the soup among 4 ovenproof bowls.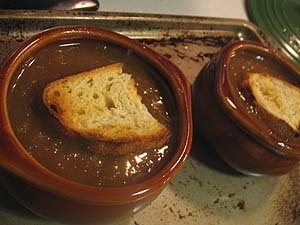 Arrange toast on top of soup and sprinkle generously with grated cheese.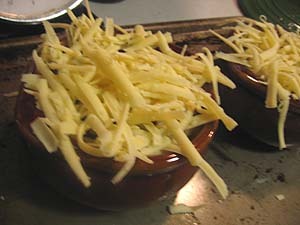 Place bowls on a cookie sheet and place under a preheated broiler until cheese melts and forms a crust over the tops of the bowls.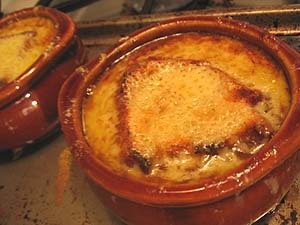 Serve immediately.