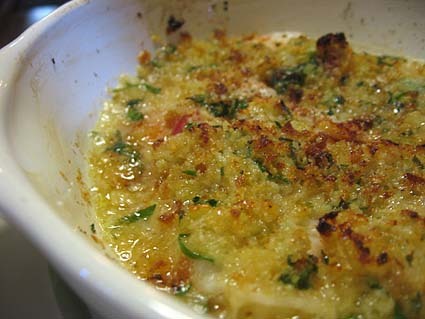 Oh! Garlic! This is the Weekend Cookbook Challenge I was born to post about. I love the garlic. Thank you so much to Carla at Chocolate Moosey for hosting this month and choosing one of my most favorite things in the whole world!
This is a crazy, old school recipe from a time, to paraphrase Gourmet Magazine, when tons of butter was the norm and one clove of garlic was scandalous. Now? Uh, not so much. Bring on the garlic! As it is 2008, I reduced the butter slightly and upped the garlic. This will feed 2 people as a small (but not sensible) dinner or be split in one bigger dish for more as a shared first course.
I used medium sized shrimp. You can totally use jumbo shrimp, but you will want to boil it for a minute or two first to start it cooking and give it longer cooking time in the oven. For my 31/40 ct shrimp (mine were probably closer to the 40) the 10-ish minutes plus 2.5 minutes under the broiler was absolutely perfect.
And damn! The garlic…mmmm! I used 1 huge clove and 1 medium clove in each. If I had to guess, I would say each single serving had about 1.5 teaspoons of garlic. Too much? Hell, no.
Oh and this is supposedly a Chicago recipe that originated at the De Jonghe Jonghe restaurant, many years ago. I remember getting it at Ki's Restaurant in Glendale Heights, IL while growing up anytime we would go there for a special, family dinner. Anyway, it's super garlicky and buttery and delicious. If you don't smell like garlic the next day, you didn't use enough.
Shrimp De Johnge Jonghe
Adapted from a recipe in Gourmet Magazine, by Jane and Michael Stern
18 – 20 Medium Shrimp (31/40 count is what I used for this, if you use larger shrimp see above)
1 stick of butter (yeah, seriously — I know, but it's not like you're eating this every night)
1/2 cup fine dry bread crumbs (I made my own from a hunk of sourdough bread, crusts and all)
2 handfuls minced fresh parsley leaves
2 tbsp dry Sherry
4 garlic cloves, minced
1/2 teaspoon salt
dash of cayenne
dash of paprika
Freshly ground black pepper
Garnish: lemon wedges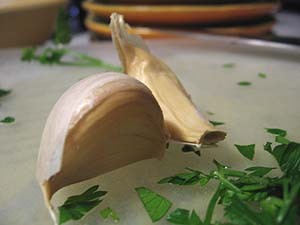 You can either make single serving portions in individual baking dishes or a large portion to share in one dish. If you make the individual portions, just divide the ingredients into two groups.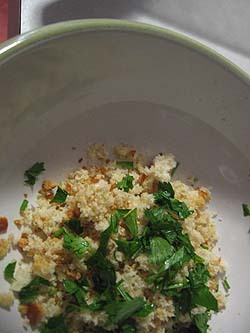 Preheat oven to 400 degrees F. and butter two small casserole dishes just large enough to hold 9-10 shrimp in one layer.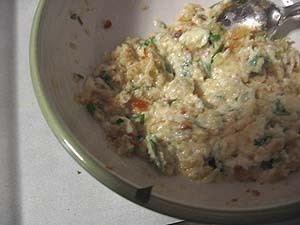 In a bowl stir together 4 tablespoons butter, 1/4 cup bread crumbs, a handful minced parsley, 1 tablespoon Sherry, 2 cloves garlic and 1/4 tsp salt, with a dash of cayenne, until blended. Stir together the remaining amounts of the ingredients in another bowl.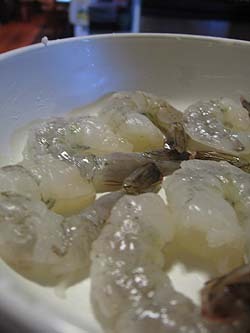 Place half the shrimp in one casserole dish and spoon bread-crumb mixture over them.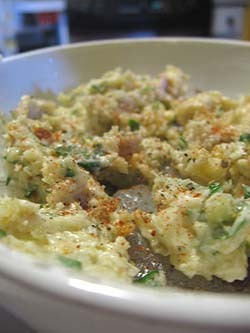 Repeat with the other baking dish. Give each a nice sprinkle of paprika and black pepper.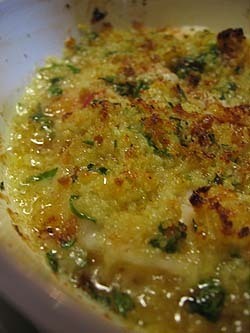 Bake shrimp on upper rack in oven (2nd highest position), 10-12 minutes until butter is melted, shrimp is pink and crumbs are starting to turn golden brown. Okay, now it's time for fire power. Turn on the broiler and give it 2-3 more minutes until it's all sizzling and toasty. Serve with lemon wedges.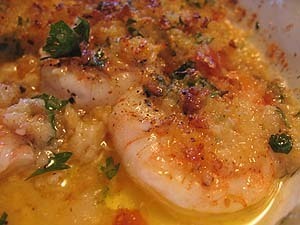 Holy crap. So good. Now, I must go walk 3 miles or something. Uh, I mean watch TV. Damn you USA with your House marathons.
Thanks again to Chocolate Moosey for hosting this month!