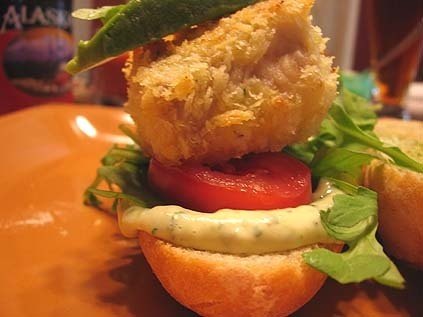 But we ate them instead. Damn, these were huge. But so very good. Instead of baguette, which I thought would be too hard for the fish, we used 2 sandwich rolls. They worked quite well. Basically, look for bread that is of like size and shape to your fish and you will be fine.
The herb-mayo that I made included a few hamburger pickles that we had in the fridge, giving it more of a tartar sauce appeal.
You will get this on your plate and think, man, there is no way that will fit in my mouth. Well, you will be right, but I found turning it on its side a bit and approaching it like a taco worked. Also, it looks like a lot of ingredients below, but it's really not. You probably already have half of them, just go get the fish and rolls! You will not be sorry. Ah, and I bet this would also work just fine with cod, if that's what's available to you.
Awesome and Huuuuge Halibut Sandwich
Adapted from a recipe by Tyler Florence
Fish:
3/4 – 1 lb of wild halibut fillet, sliced into 2 pieces of the same size
1 cup all-purpose flour
1 egg, beaten
1/4 cup milk
1 cup panko bread crumbs
Kosher salt and freshly ground black pepper
Extra-virgin olive oil
Herb-Mayo:
1 cup mayonnaise, store-bought
1 lemon, juiced
1 handful fresh parsley leaves, finely chopped
1 handful fresh basil leaves, finely chopped
1 handful chives, finely chopped
Optional: 3-4 dill pickle rounds, chopped
Kosher salt and freshly ground black pepper
Sandwich:
2 tbsp olive oil
2 sandwich rolls slightly bigger than your fish pieces, sourdough if you can get them
2 handfuls arugula leaves
1 ripe avocado, cut in thick slices
1 beefsteak (or other variety, for instance, we used 2 romas from the garden) tomato, cut in thick slices
Kosher salt and freshly ground black pepper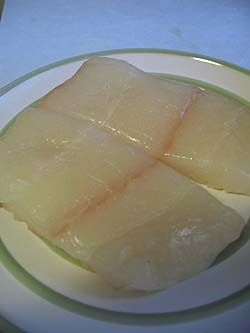 Preheat oven to 375 degrees F and put a large sheet tray in oven and heat it for 1/2 hour.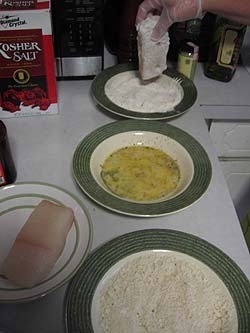 Begin by patting the halibut fillet dry. Set up a breading station with flour, beaten egg and milk, and bread crumbs in separate containers. Season with salt and pepper. Dip each fillet into the flour, egg mixture, and then panko.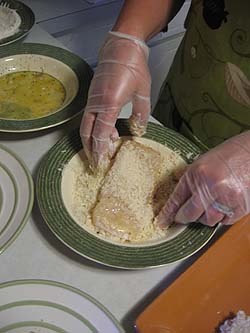 When I bread, I like to use gloves so I don't end up with egg/breadcrumb mittens…
Set aside on a tray at room temperature to let the coating set. I let mine set for about 5 minutes.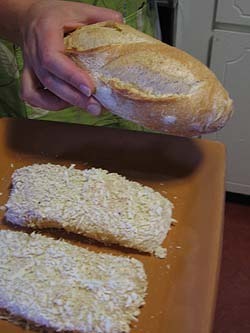 Pull out sheet tray from oven, add a 2-count of oil and transfer breaded fish to tray. Sprinkle with olive oil. Bake for 10 minutes and flip over. Check after another 10 minutes. If fish doesn't seem like it's goldening up enough, increase oven temperature to 400 and give it 4-5 more minutes. I was super happy to discover after cooking this way my halibut was perfectly cooked! I was afraid I was going to dry it out trying to get a bit more color but it was perfect.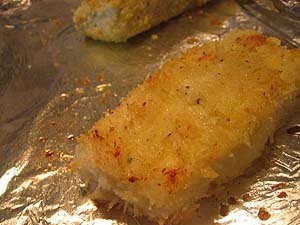 Split the rolls in half horizontally, but leave it connected by a hinge on one side. Open it up and toast it in a hot oven until just warmed through, about 2-3 minutes, while you finish cooking the fish. Remove the fish and bread from oven.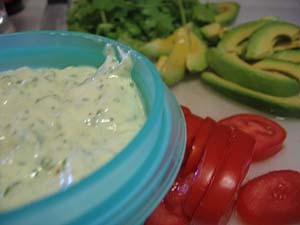 Combine lemon herb mayonnaise ingredients in a bowl and blend until well combined. For a creamier mayo, you can also put all the ingredients in a food processor and *whir* *whir* for a few seconds. Season with salt and pepper, to taste.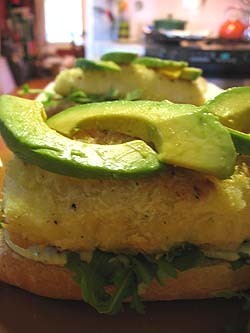 Smear each half of the bread with lemon herb mayonnaise and stack up arugula, tomato on one half. Top each with a crispy panko fish fillet and avocado. Fold over with the other half of bread. Serve with more lemon-herb mayonnaise on the side.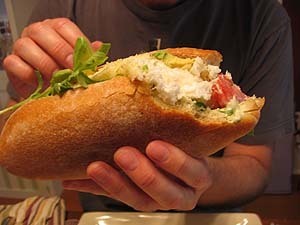 jwa models his tasty halibut sandwich
See — it's huge! I made it through about 2/3′s of mine before I gave up and just ate the fish, avocado and tomato off of mine.
***
Trying…..so…hard…not…to…post…anything…political….but….I can't stop myself anymore: FactCheck.org *
Plus, I think it goes without saying, but Tina Fey is so awesome.
*The Annenberg Political Fact Check is a project of the Annenberg Public Policy Center of the University of Pennsylvania. The APPC was established by publisher and philanthropist Walter Annenberg in 1994 to create a community of scholars within the University of Pennsylvania that would address public policy issues at the local, state, and federal levels. They are a nonpartisan, nonprofit, "consumer advocate" for voters that aims to reduce the level of deception and confusion in U.S. politics. They monitor the factual accuracy of what is said by major U.S. political players in the form of TV ads, debates, speeches, interviews, and news releases.