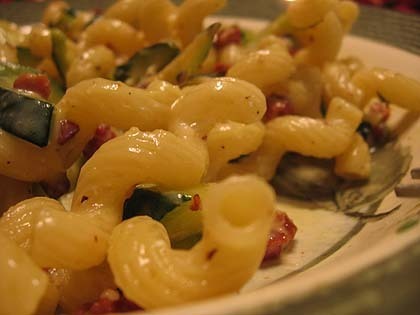 I recently watched an episode of the Jamie Oliver* show on Food Network and he made this. I was transfixed. And even though jwa is not crazy about zucchini, I knew we would be having this soon. Wow. This was good. I used some diced pancetta from Trader Joe's and zucchini I got from the farmers market.
Sure there's cream and egg yolk and pancetta in it. But hey! There's also zucchini. Eat up.
Zucchini Carbonara for Two
Recipe from Jamie Oliver
Sea salt and freshly ground black pepper
4 small – medium green and yellow zucchini
1/2 pound penne (or other tube shaped pasta)
2 large free-range or organic egg yolks
1/4 cup heavy cream
2 good handfuls freshly grated Parmesan
Salt and freshly ground black pepper
Olive oil
6 thick slices pancetta or lean bacon, cut into chunky pieces
A small bunch fresh thyme, leaves picked and chopped, flowers reserved (if you can get hold of flowering thyme)
Optional: a few zucchini flowers
Jamie says: "Before you start cooking, it's important to get yourself a very large pan, or use a high-sided roasting pan so you can give the pasta a good toss." I agree, a very large pan is awesome. Go get one. We'll wait.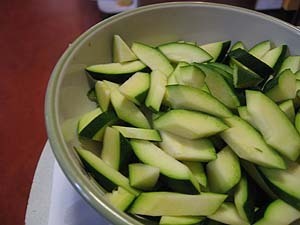 Okay, boil a large pot of salted water on to boil. Halve and then quarter any larger zucchini lengthwise. Cut out and discard any fluffy middle bits, and slice the zucchini at an angle into pieces roughly the same size and shape as the penne. Smaller zucchini can simply be sliced finely. When the water is boiling, so add the penne to the pot and cook according to the package instructions.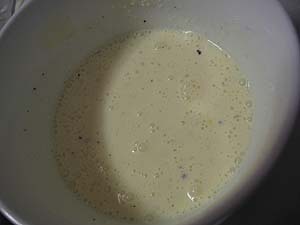 To make your creamy carbonara sauce, put the egg yolks into a bowl, add the cream and half the Parmesan, and mix together with a fork. Season lightly with salt and pepper and set aside.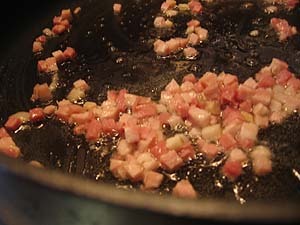 Heat a very large frying pan (you know, the one you just got), add a good splash of olive oil and fry the pancetta or bacon until dark brown and crisp.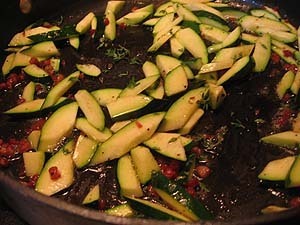 Add the zucchini slices and 2 big pinches of black pepper, not just to season but to give it a bit of a kick. Sprinkle in the thyme leaves, give everything a stir, so the zucchini is coated with all the pancetta-flavored oil, and fry until they start to turn lightly golden and have softened slightly.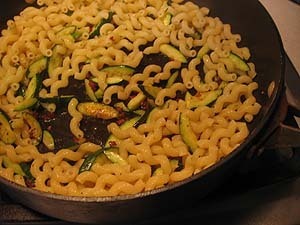 When the pasta is cooked, drain it, reserving a little of the cooking water. Immediately, toss the pasta in the pan with the zucchini, bacon and lovely flavors, then remove from the heat. Drizzle the reserved cooking water to the creamy sauce, whisking together quickly.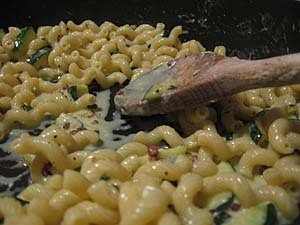 Now, take that sauce and add it to the big pan of pasta and zucchini. Toss and serve.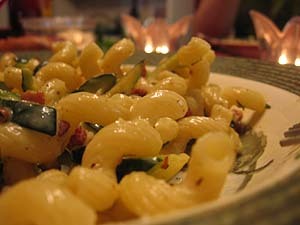 * I think I need to pre-order Jamie at Home. But, probably at amazon, as it's cheaper.