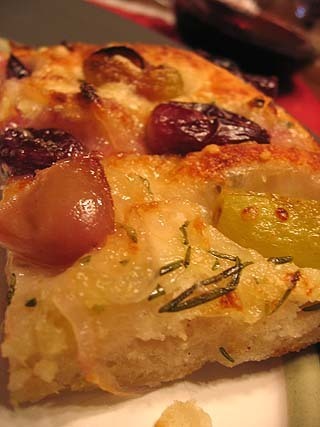 This was really good. I bought grapes specifically for this recipe. That's a lot of pressure, man. My original thought was also to make my own dough — that didn't work out. Not because of a kitchen disaster but because it was too easy to just grab a package of pizza dough at Trader Joe's when I bought the grapes.
I originally saw this on Everyday Italian. But I added cheese, added more garlic and upped the oven temp. I like to make the grapes go *pop*.
Printable recipe pdf!
Foccacia with Rosemary and Grapes
Adapted from a recipe by Giada De Laurentiis
2 tbsp extra-virgin olive oil
Coarse sea salt, for sprinkling
2 garlic cloves, minced
1 shallot, cut into thinly sliced rounds
1 tbsp fresh rosemary leaves
1/2 cup green grapes
1/2 cup red grapes
a big handful of grated Parmesan cheese (okay, okay, 2 handfuls)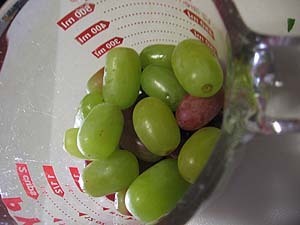 Preheat the oven to 425 degrees F. Roll or press the pizza dough into a rectangle on a sheet of parchment paper or slightly olive oiled aluminum foil. Place the dough and the parchment/foil on a baking sheet.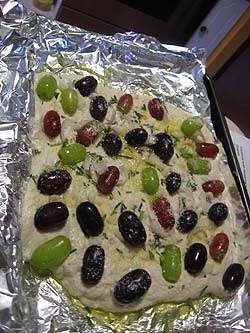 Using a pastry brush, cover the top of the dough with olive oil. Sprinkle the dough with coarse sea . . . → Read More: Foccacia with Rosemary and Grapes