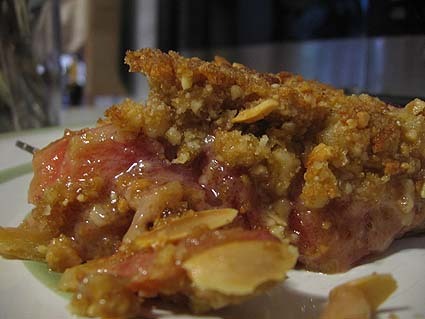 I made this a few weeks ago and both jwa and I really loved it! My friend Vanessa got me some marzipan (no, not this marzipan), while she and her husband were in Norway and now I am looking for marzipany things to do.
I saw this recipe and literally made it the next day. I think my tart pan is 9 inches though. I had too many plums. And too much crumble. Not a big deal. There are many worse things to have extras of — toes, pets, bad habits, etc… Anyway, I used pastry dough from the Dorie Greenspan book — the extra dough from my blueberry pie in fact. Defrosted, rolled out and ready to go!
You can use your favorite pastry recipe for the bottom crust or go the store bought route.
The return of — Printable Recipe pdf!
Plum Tart with Marzipan Crumble
From Bon Appétit magazine
1 pastry round big enough for an 9″ or 11″ tart pan
Crumble:
3/4 cup all purpose flour
1/2 cup (packed) almond paste (about 5 ounces)
1/2 cup (packed) golden brown sugar
6 tbsp (3/4 stick) chilled unsalted butter, cut into 1/2-inch cubes
1/4 cup sliced almonds
Filling:
2 1/4 pounds plums (about 12), halved, pitted, thinly sliced
1/2 . . . → Read More: Plum Tart with Marzipan Crumble