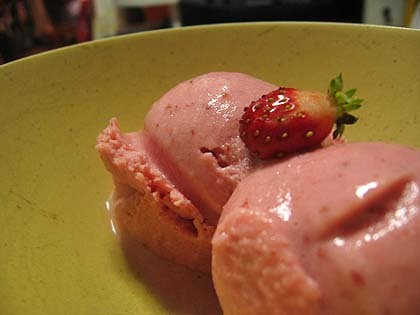 Strawberry Frozen Yogurt! What's that? You say it's September? You say, "Isn't Strawberry Frozen Yogurt kinda silly in, uh, September? You know, like 2 months after berry season?"
Yeah. So what's your point? I managed to find some strawberries at Trader Joe's a couple of days ago, was just walking by and I smelled them and man, did they smell good. So I bought them and then they sat for a couple of days. Then they got moved into the fridge for another day or two because they were getting pretty ripe and NO ONE was eating them. And then yesterday they turned into delicious and amazing strawberry frozen yogurt. I am just kicking myself for not making this earlier in the Summer.
If you can still find berries by you and you have an ice cream maker, you must do this!
Strawberry-Vanilla Frozen Yogurt
16 oz fresh strawberries, washed and halved
2/3 cup granulated sugar
1 tbsp Chambord or other fruit liqueur
1 tsp fresh lemon juice
2 cups low-fat vanilla yogurt
1/2 tsp vanilla extract
1 ice cream maker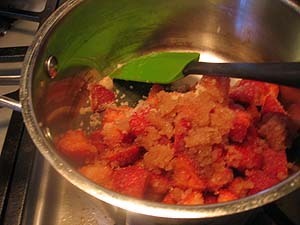 Take your berries and add them to a pot with the liqueur, sugar and lemon juice. Heat over medium heat until the sugar melts, . . . → Read More: The Best Thing I Have Ever Made with My Ice Cream Maker