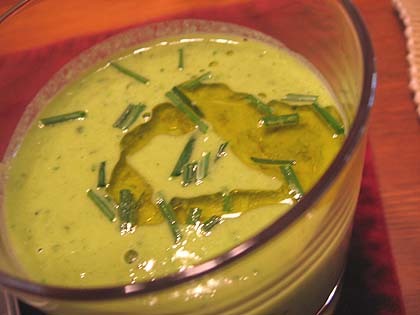 We're going back to Spain again. Can you tell I just got The New Spanish Table by Anya von Bremzen and I just can't stop leafing through it? Yes? Okay, good, as that's pretty much the case. I had planned to make this soup and wouldn't you know it, it was only about 78 degrees that day. But it was sunny! So, I guess that counts.
This would be an awesome soup on a super hot day. It was a great soup on a kind of warm day. I loved the mint, although jwa thought there might have been a bit too much. So, I guess scale your mint usage on how much you like mint. Oh and I was a little concerned about the iceburg lettuce, but it works. Let's see, what else? Oh, the color is a wonderful, bright green. And I got to use a lot of herbs from the garden. That's always a plus.
Enough with the chit-chat, let's get to the soup!
Printable Recipe pdf!
Spanish Chilled Herbed Pea Soup
from The New Spanish Table by Anya von Bremzen
1 tbsp unsalted butter
5 tbsp extra virgin olive oil (plus more for drizzling)
2 small leeks, cleaned, halved, and chopped
2 . . . → Read More: Chilled Herbed Pea Soup for August