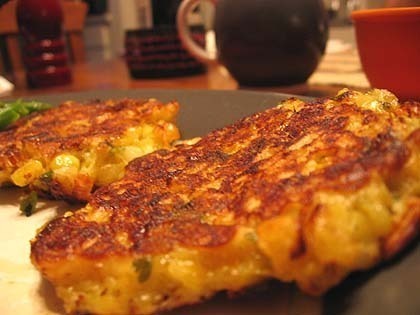 Went to the Hillsdale Farmer's Market and picked up eight ears of corn for $4. Deal! The recipe here calls for six ears, but I always like to get a couple extra, just in case. Sometimes, you don't know what you will find when you unwrap corn — all plump golden kernels or plump golden kernels with little patches of shrunken, underdeveloped kernels. With extra corn, you can have more on hand if your ears are less than perfect. Mine were pretty good, but I used 8 ears to come away with a little over three cups of corn kernels. Perfect ears, you could probably do it in six.
Organic, pesticide-free, local corn (it's good!) — get eight.
The recipe here is from Local Flavors, by Deborah Madison, which is a great cookbook to find inspiration from. Especially when you come back from a Farmers Market with a big bag full of farmers stuff.
I had enough batter to make about 12 fritters, but then I was a little over on the corn (I had about three and a half cups). Assume the below recipe as written will make 10-12 corn fritters. Originally, the cookbook said six fritters, but I . . . → Read More: Corn Fritters with Aged Cheddar & Sage