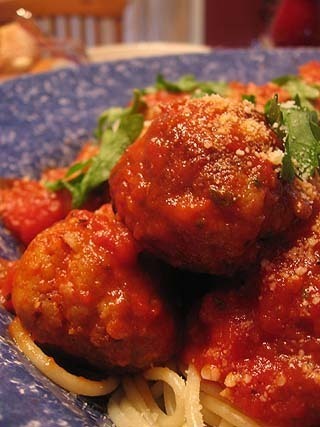 Sometimes I come across a recipe and I am so intrigued that I just have to try it. Cinnamon and Tuna. Hmm…Yes, this is one of those recipes.
But, since it involved fish, I decided to get jwa's opinion on it before making it. He's somewhat picky about fish and I didn't want to be left with 20 meatballs to eat all by my lonesome if he decided he didn't think he'd like it. Not a fish meal, but try having to eat a whole pot of veggie chili by yourself and you will learn to gauge another person's interest in a meal while it is still hypothetical. For the tuna meatballs, he was a little skeptical but then I mentioned it was a Jamie Oliver recipe and he was all, "Oh, okay then!"
That's almost exactly how I felt. It's what convinced me that it would probably be good too. All of the recipes of Jamie's I have tried have been awesome and Jamie at Home is one of the only Food Network shows I watch anymore (Sandra Lee does not count. Semi Homemade is like a sitcom). But I digress.
You might approach this tuna meatball recipe . . . → Read More: Tuna Meatballs or Le Migliori Polpette di Tonno