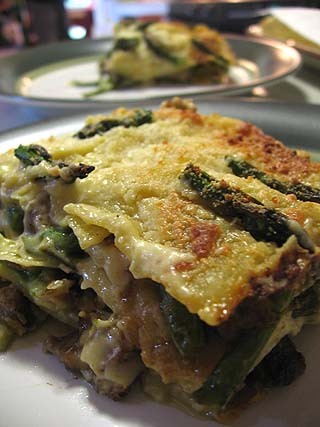 So, if I post this today, maybe there will be an asparagus recall tomorrow? Originally, this was just an asparagus lasagna but i had some chicken sausage to add to it. Thus, making it Asparagus & Chicken Sausage Lasagna.
There was also, in the original, heavy cream that was whipped and spread on the top of the lasagna before baking. I was really intrigued by that but I opted to just use the goat cheese sauce for the whole thing. But at some point, I will whip some cream and bake it on the top of something, just you wait.
And it's a good thing it has been cold here lately. Perfect lasagna weather! Although, I think we will be sunny and in the 70′s today.
Asparagus & Chicken Sausage Lasagna
Adapted from Gourmet Magazine
2 pounds medium asparagus, trimmed
2 tbsp extra-virgin olive oil
4 chicken sausages, diced
1 clove garlic, minced
1 shallot, diced
Salt
1/4 cup (1/2 stick) unsalted butter
1/4 cup all-purpose flour
1 1/2 cups chicken broth, heated
1/2 cup water, heated
5 ounces mild goat cheese, such as Montrachet
1 teaspoon freshly grated lemon zest, or to taste
no boil lasagna sheets for 4 layers of noodles — I used about 8 full sheets (mine were about 4 X 6 inches) and 2 halved sheets
1 cup freshly grated Parmesan
Preheat oven to 500 degrees F. Cut the tips off each asparagus spear and reserve half of them them. Cut the stalks of asparagus into 1/2-inch lengths.
If your asparagus is of varying sizes, use one pan for the thinner stalks and one pan for the larger stalks. That way, you can take the thinner stalks out of the oven first. In each of 2 large shallow baking pans toss half the asparagus stalks (and half the total spears) with 1/2 tablespoon of the oil, and salt and roast them, shaking the pans every few minutes, until they are crisp-tender, about 5 to 7 minutes. Set them aside. Lower oven temperature to 400 degrees F.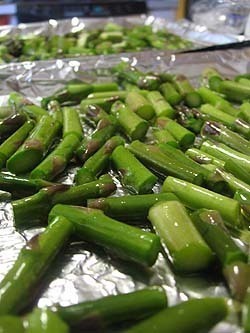 Heat a pan with the remaining tablespoon of oil and add the onion and garlic with a little salt. Add the sausage and cook until done. Or, if your sausage is fully cooked (mine was), just get it to brown a little. Set aside.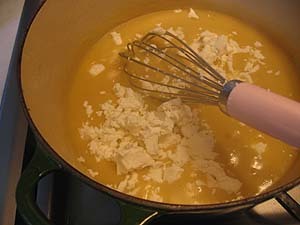 In a saucepan melt the butter, add the flour, and cook the roux over moderately low heat, stirring, for 3 minutes. Add the broth and the water in a stream, whisking, simmer the mixture for 5 minutes, and whisk in the goat cheese, zest, and salt, to taste, whisking until the sauce is smooth.
Ladle a little sauce into the bottom of your 9 X 13 inch, oiled pan. Arrange 1 layer of pasta and spread each sheet with 1/4 of the sauce.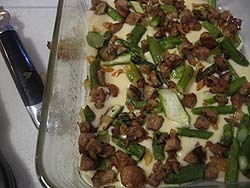 Top the sauce with 1/3 of the reserved roasted asparagus and sausage mixture and sprinkle with 1/4 cup of the Parmesan.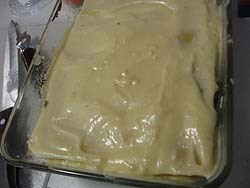 Continue to layer the pasta, sauce, asparagus, sausage and Parmesan in the same manner, ending with sheets of pasta. So, you will have the bottom sheet of pasta, three layers of asparagus/sausage/sauce and a final pasta cover. Ladle on the rest of your sauce.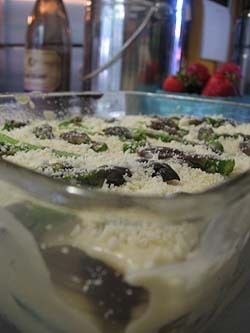 Add the remaining asparagus tips to the top and any super skinny stalks of asparagus if you had any. Sprinkle the remaining Parmesan on top.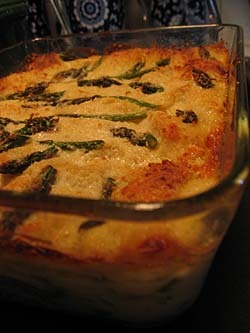 Bake* the lasagna in the middle of the oven for 30 minutes, or until it is golden and bubbling, and let it stand for 10 minutes before serving.
* I made this in advance of baking it, storing it in the fridge for about 6 hours. I let it sit at room temperature before baking for about 45 minutes. I found that I needed to add about 5-7 minutes to the cooking time above.