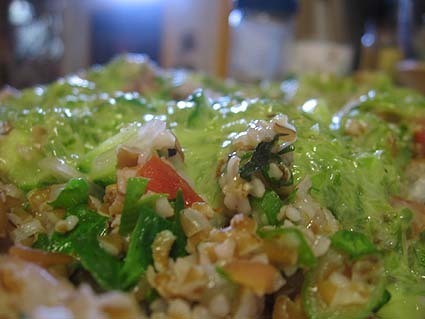 Another vegetarian post? Why yes, yes it is, although, there's a little bit of salmon at the end. It's more of an omnivorous post. So, I have never been a huge fan of tabouleh but I may have to rethink that position after making this dish. The vinaigrette is really good…like get a straw good. I also have never used buckwheat honey before and I was surprised to find it easily at Fred Meyer. Has everyone been buying buckwheat honey but me?
This is a Bobby Flay recipe. It's kind of crazy how many of his recipes that I have been making lately. I even watched a little Throwdown last night. Why? Why?
Anyway, to go with this awesome salad, we had some grilled salmon with a spiced yogurt. Super good also. See the end of the post for the spiced yogurt recipe.
Bulgur Salad with Green Onion Vinaigrette
3/4 cup medium-grind bulgur
1/2 small red onion, finely diced
2 plum tomatoes, finely diced
1/2 English cucumber, diced
1 cup finely chopped fresh flat-leaf parsley
1/2 cup finely chopped fresh mint leaves
4 green onions, sliced, plus 1/2 cup chopped green onions
1/4 cup fresh lime juice
1 tbsp buckwheat honey
1/2 jalapeno chile, chopped
1/4 cup olive oil
1 tsp kosher salt
1/2 tsp freshly ground black pepper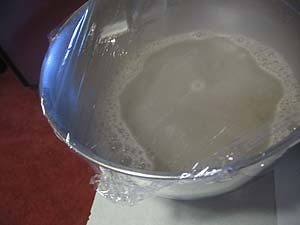 Place bulgur in a large bowl, pour 3 cups boiling water over, cover the bowl with plastic wrap and let sit until tender, about 15 to 20 minutes. Drain well, squeezing out as much water as possible, if needed. Return the cooked bulgur to the bowl and mix in the onion, tomatoes, cucumber, parsley, mint, and 4 sliced green onions.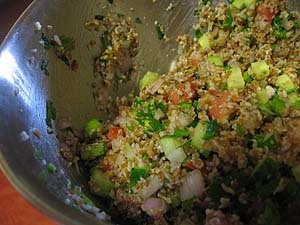 Place the lime juice, honey, serrano, and 1/2 cup chopped green onion in a blender and blend until smooth. With the motor running, slowly add the oil until emulsified. If the mixture appears too thick, blend in a few tablespoons of cold water, and season with salt and pepper, to taste. Play with the lime, jalapeno and honey ratios if needed. Transfer the salad to a platter and drizzle with the green onion vinaigrette.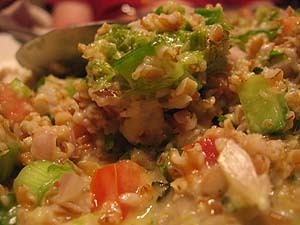 Okay, let's talk briefly about the salmon. Just grill some. But also do this stuff.
Spiced Yogurt
1 tsp ground cumin
1/4 tsp ground coriander
pinch of ground clove
pinch cayenne pepper
1/4 tsp ground cinnamon
1 cup Greek yogurt
1/2 small red onion, finely chopped
1 tsp fresh lemon zest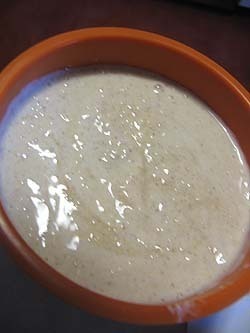 Mix all the spices together. Set aside 1/2 teaspoon and then combine the yogurt with the remaining spices, onion and lemon zest in a food processor. Serve with grilled salmon.
Orange Spice Glaze
1/2 tsp reserved spice mixture from above
1 tbsp orange marmalade
1 tbsp olive oil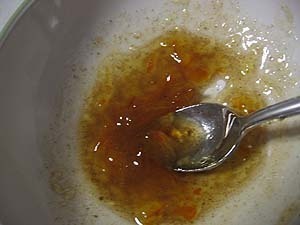 Brush on the salmon as you grill it. Mmm.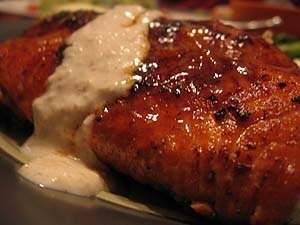 Serve the salmon with the spiced yogurt and the bulgur salad.