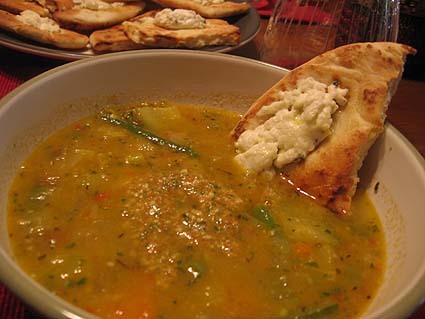 Ah, May's Weekend Cookbook Challenge. I almost missed it too, as we just got back from the honeymoon on Tuesday night. I actually kind of doubted I was going to make this and get the post together by the due date. I surprised myself. And quickly, speaking of the honeymoon, we had a fabulous time. Vancouver Island is awesome. Especially Tofino. We love Tofino. I will start planning an anniversary trip back there soon — I'm not even kidding.
Anyway, WCC. The theme was TV Cooks and rather than picking a recipe based on TV Cook, I picked a recipe based on what I grabbed up at the grocery store (mostly vegetables). And the winner is….Wolfgang Puck! This recipe was on the show, "Wolfgang Puck's Cooking Class" on the Food Network. This show is probably no longer on, as it's actually about cooking.
So, I changed a few things (used less stock, omitted the yellow squash, added cheese to the pistou) but that is just my way. This is a really great, easy to make, vegetable soup. So, you know, go make some.
Provencal Vegetable Soup
4 tbsp olive oil
3 medium leeks, dark green parts trimmed and discarded, light green . . . → Read More: WCC 28: Provencal Vegetable Soup (Soupe au Pistou)