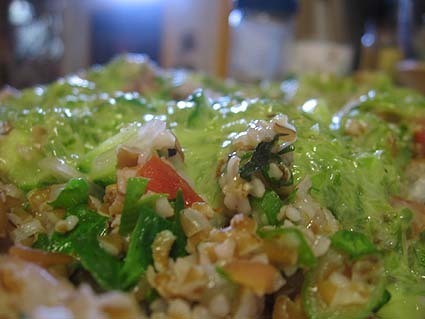 Another vegetarian post? Why yes, yes it is, although, there's a little bit of salmon at the end. It's more of an omnivorous post. So, I have never been a huge fan of tabouleh but I may have to rethink that position after making this dish. The vinaigrette is really good…like get a straw good. I also have never used buckwheat honey before and I was surprised to find it easily at Fred Meyer. Has everyone been buying buckwheat honey but me?
This is a Bobby Flay recipe. It's kind of crazy how many of his recipes that I have been making lately. I even watched a little Throwdown last night. Why? Why?
Anyway, to go with this awesome salad, we had some grilled salmon with a spiced yogurt. Super good also. See the end of the post for the spiced yogurt recipe.
Bulgur Salad with Green Onion Vinaigrette
3/4 cup medium-grind bulgur
1/2 small red onion, finely diced
2 plum tomatoes, finely diced
1/2 English cucumber, diced
1 cup finely chopped fresh flat-leaf parsley
1/2 cup finely chopped fresh mint leaves
4 green onions, sliced, plus 1/2 cup chopped green onions
1/4 cup fresh lime juice
1 tbsp buckwheat honey
1/2 jalapeno chile, chopped
1/4 cup olive oil
1 tsp kosher . . . → Read More: Bulgur Salad with Green Onion Vinaigrette Plus Some Salmon