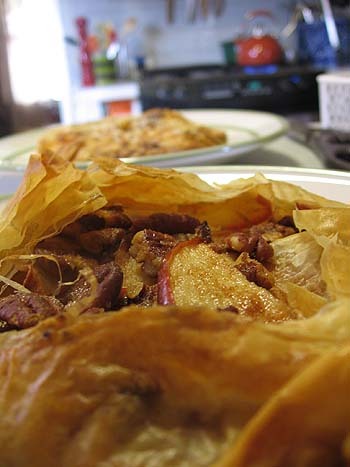 A couple of weeks ago, I made a recipe that required a few sheets of phyllo dough and then I was stuck with an open roll in the fridge. What to do? What to do? Well, this for one…
Now, you can make this recipe as written, making one galette of each or you can just double the ingredients for the kind of galette you want to make and make 2 of those. The 5 sheets of dough, 1 apple, squirt of lemon and 1 tbsp of butter will make two galettes, no matter which variation you choose.
Apple, Rosemary & Gruyere Galette vs. Apple, Pecan and Cinnamon Galette
5 sheets phyllo dough, thawed
1 apple (I used a gala)
squirt of lemon juice
2 tbsp sugar + 1 tsp cinnamon mixed together
1 handful pecans (about 1/4 cup)
1/2 tsp chopped, fresh rosemary
1 tbsp honey
1/3 cup gruyere, grated
1 tbsp butter, melted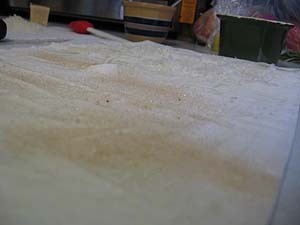 Preheat your oven to 350 degrees F. Lay one piece of phyllo down on a work surface. The long way. You know, horizontally. Cover the other pieces you are not using with a damp paper towel to keep them from drying out. Brush some melted butter on the dough. Sprinkle one half with the cinnamon sugar and one half with a little cheese — just a little.
Add another piece of phyllo down and brush with butter and sprinkle each half. Keep doing this until you've used all 5 pieces of dough. Cover with your damp towel.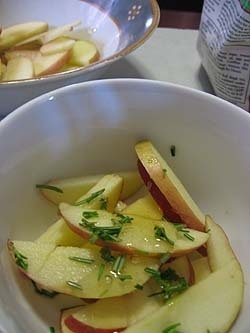 Next, slice your apple up and squirt with a little lemon. Dived your apple slices in half. To one group, add about 1 tablespoon of your cinnamon-sugar mixture and the pecans. To the other half, add the honey and the rosemary. Toss both to combine. Do the best you can with the honey — it doesn't really want to toss.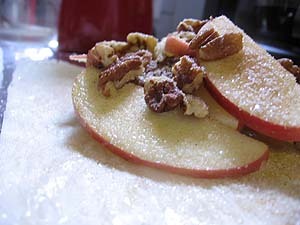 Now, cut the phyllo in half, vertically, seperating into the cinnamon sugar side and the cheese side. Mound the apple-pecan mixture in the middle of the cinnamon sugar dough and the apple-rosemary mixture in the center of the cheese dough. Bring the sides up. It will not cover the filling, just come up the sides a bit.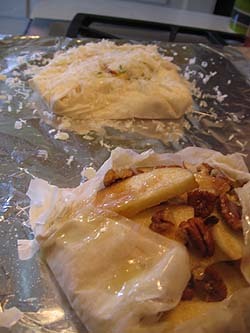 Brush each with remaining butter and sprinkle a little cinnamon-sugar and cheese on the respective tops.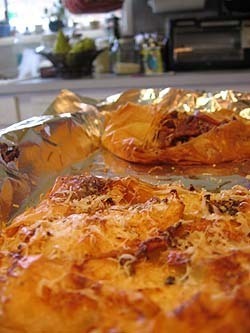 Into the oven with them! About 30 – 35 minutes.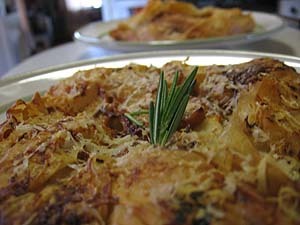 Let them rest for a moment or two and then nom-nom-nom-nom-nom!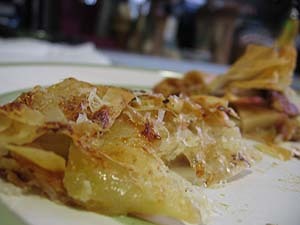 I had a hard time picking my favorite. I think the cinnamon-sugar one would be great with a little vanilla frozen yogurt or ice cream and the cheese one…hmmm…maybe a balsamic reduction drizzle? Hell, they were good just as they were from the oven.
Okay, this will probably be the last post until next week. Wedding-Sunday is fast approaching! Everything seems to be going well and, dare I say it, to plan.
eeek!