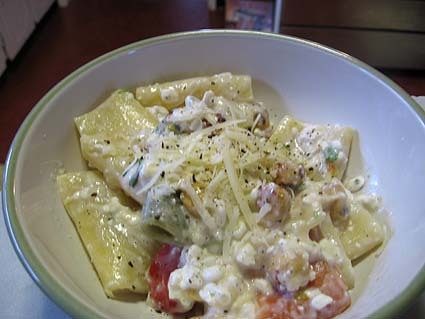 This is super simple pasta. I first came across the recipe in like, 1997 or 1998 on, of all places, the 4AD mailing list. I know, wacky! I couldn't find the original recipe when I set out to recreate it but what I could remember was: cottage cheese, milk, diced tomatoes, hazelnuts and tarragon. And I remembered thinking, huh, cottage cheese and pasta? But, it was quite tasty. You could also, of course, probably use ricotta.
So, here's how I have been recreating this around the house lately. This dish also works excellently as a work lunch. In fact, that has been its purpose for us. I just pop it into containers and when it's reheated in the microwave at work, the sauce is all creamy and good.
To eat right away, you probably want to toss the cottage cheese and everything in the hot pan, after you've drained the pasta, and then all the pasta back in. Heat gently over low heat.
Oh and if you see this and this was basically your idea and you posted the recipe to 4AD-L about 10 years ago, let me know and I'll give you credit! So, everyone dig out your Cocteau Twins 12-inches and make some pasta!
Rigatoni with Hazelnuts, Tarragon and Tomatoes
1 lb rigatoni (more than rigatoni will work here)
1/3 cup toasted hazelnuts, chopped roughly (I add to a plastic bag and beat with a rolling pin)
1 container (16 oz) cottage cheese (either low fat or regular fat — no fat free)
1/2 cup low fat milk (I have used both fat-free and 2% here)
1 1/2 – 2 tbsp fresh tarragon leaves, chopped
1/3 – 1/2 cup Parmesan cheese, grated
2 tomatoes, diced
2 cloves garlic, minced
2-3 shakes green Tabasco sauce
Salt & Pepper
Combine the hazelnuts through the Tabasco. Mix to combine. Add salt & pepper to taste. Cook your pasta in boiling, salted water. Drain and combine with the sauce. Pack up for lunches during the week, or warm gently on the stovetop for supper.
Awesome!