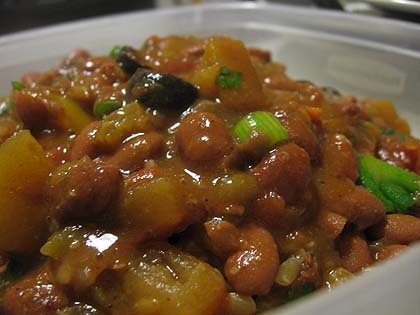 Weekend Cookbook Challenge is being hosted by La Mia Cucina this month and the theme is…pressure cookers (which I am scared of), crockpots (which I love) and Dutch ovens (which I also love, but I use pretty frequently already).
So, crockpot it is! And the cookbook I used was Fresh from the Vegetarian Slow Cooker by Robin Robertson. This is also the only crockpot cookbook that I have. Typically, I just get crockpot recipes off that Internet thing.
Oh and Happy Saint Patrick's Day — now, here's a Mexican recipe!
Pinto Picadillio
1 tbsp olive oil
1 medium-size yellow onion, chopped
1 small red bell pepper, seeded and chopped
2 garlic cloves, minced
1 tsp cumin
3 cups slow-cooked* or two 15.5-ounce cans pinto beans, drained and rinsed
One 14.5-ounce can diced tomatoes, drained
One 4-ounce can diced green chiles, drained
1 Granny Smith apple, peeled, cored, and chopped
1 cup vegetable stock
Salt and freshly ground black pepper
2 cups cooked long-grain white or brown rice
1/2 cup golden raisins
1/4 cup sliced black olives, drained
1/4 cup chopped fresh cilantro leaves (originally it called for parsley)
handful of chopped green onions
2 tbsp slivered almonds, toasted
Heat the oil in a large skillet over medium heat. Add the onion, bell pepper and cumin. Saute . . . → Read More: WCC26: The Hero of Canton the Man They called…Pinto Picadillio