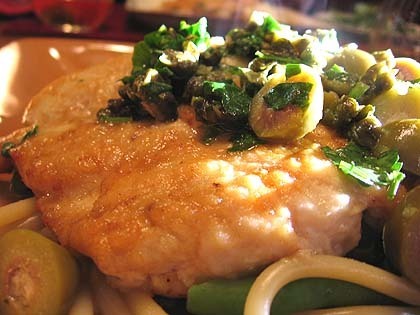 Oh! Oh! I totally forgot the "secret" ingredient! Based on the Fine Cooking recipe, I added about a tablespoon of honey in the sauce with the lemon, chicken stock & wine. I've amended the recipe below!
This was sort of one of those meals where I looked around at what we had and then figured out what to do with it. Chicken breasts? Yes. Capers? Right there. Lemons? Uh-huh. Wine? Well, duh. Feta stuffed green olives that I love-love-love? Oh yeah. So, here we go.
This recipe is also a combination of many different recipes I found online. The fried capers bit is from Fine Cooking magazine and the rest is a little bit Everyday Italian (Little Big Head) and a little bit I love my smoked paprika and I love my Parmesan cheese.
Chicken Piccata with Olives and Fried Capers
2 skinless and boneless chicken breasts, pounded flat*
Kosher salt and freshly ground black pepper
1/4 cup AP flour
1/4 cup Parmesan cheese
1 tsp smoked paprika
3 tbsp extra-virgin olive oil
2 tbsp brined capers, rinsed
1 clove garlic, minced
Juice of 1 big lemon (should be about 3 – 4 tbsp, you may need another lemon if yours isn't super juicy and/or big)
1/2 cup chicken stock
1/4 cup of white wine (I used a chardonnay)
1 tbsp honey
1 tbsp butter
1/4 cup chopped green olives (rinsed) — stuffed with feta if you've got 'em
1/4 cup fresh parsley, chopped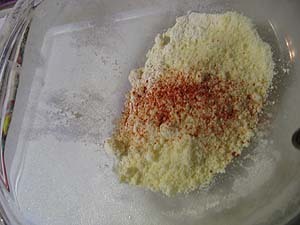 Combine flour, cheese, and paprika and pour onto a rimmed plate. Season chicken with salt and pepper. Dredge chicken pieces in the flour mixture and shake off excess.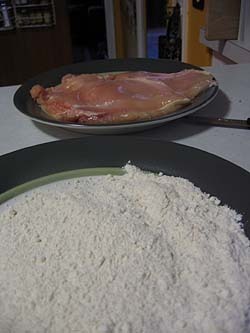 In a large 10 or 12-inch skillet over medium high heat, add the olive oil. When hot add the capers and cook for about 60 seconds until they get a little color.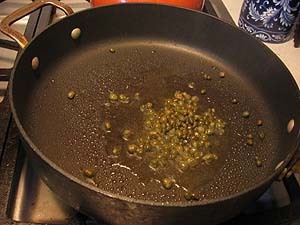 They will also expand a little, almost pop open a bit. Use a slotted spoon and remove the capers and let drain on a paper towel.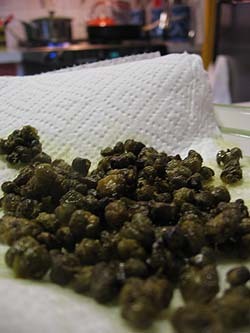 In the remaining oil, add the chicken and cook about 2-3 minutes.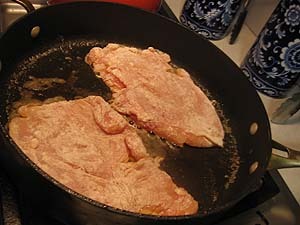 When chicken is browned, flip and cook other side for 3 minutes. Check for doneness with a meat thermometer. You are looking for about 165. Remove and transfer to plate. Cover with foil to keep warm.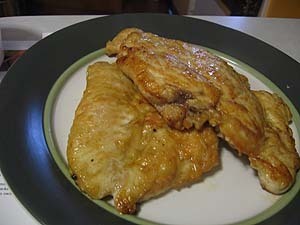 If you are making pasta to go with this, now is a good time to have your pot of boiling water and your pasta ready to go. We had spaghetti and some green beans. I added the pasta to the water when the sauce was about 8 minutes from being done and then the green beans to the pasta for the last 3-4 minutes of cooking time.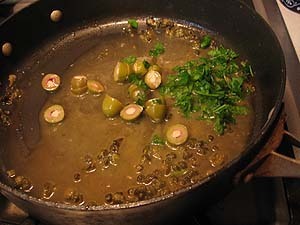 Okay, now back to the sauce. Reduce heat to medium and add the lemon juice, stock, honey, wine and garlic. Bring to boil, scraping up brown bits from the pan for extra flavor. Reduce for about 10 minutes. Check for seasoning and overall taste. Add more wine, stock or lemon as needed. I have to admit I fiddled a bit here. I added a bit more wine. Tasted. Then added a bit more stock. Then gave it a couple more minutes to reduce. When it is just where you like it, add the fried capers, the olives, parsley and butter. When butter is melted, it's done.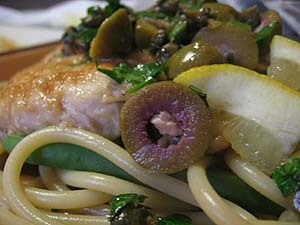 To serve: plate up some drained pasta and green beans. I thought a large rimmed plate worked well but jwa thought a big bowl might have been better. Pfffftttt…whatever. Give each plate a chicken breast and top with the sauce, dividing it between plates.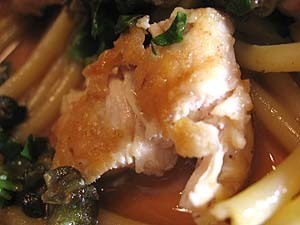 This was really, really good. We will definitely be having this again. I was kind of sad I only used two chicken breasts and that there were no leftovers.
* To pound your chicken, Place some plastic wrap over a cutting board and put a chicken breast down. Fold the wrap over the chicken and pound with —
a: a pounding mallet
b: a rolling pin
c: some other instrument of choice
I actually have a metal tenderizing side/flat side mallet that I use. I like it because I can just throw it in the dishwasher. That's one thing to remember, you might get a little raw chicken on whatever you're pounding with so make sure that what you are using is washable. Then, pound each breast until it has pretty much doubled in size and is about 1/2 – 1/4 inch thick.