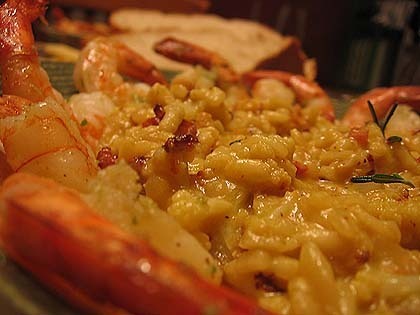 I cannot believe I've only made risotto a handful of times this winter! That is crazy because I luuurve risotto. Maybe the weather is turning all crappy again to inspire me to make more risotto?
Anyway, this is the latest risotto experiment — sort of a Spanish-inspired theme. I've just started eating cauliflower and I am trying to throw it into as many dishes as possible. Cauliflower in 2007/2008 is like the spinach of 1995.
I think cauliflower is the last vegetable I have left to develop a liking for…er, okay, wait, still not crazy about beets. And I have tried…but that's a different story.
So, cauliflower is very good roasted, which is how this recipe starts. Roasting is always a good place to start. After the roasting, there is sauteing, stirring, melting and then eating.
Cauliflower Risotto with Saffron, Pancetta and Manchego
1 head of cauliflower, cut into 2-inch-wide florets
2 tbsp + 1 tbsp olive oil
2 tbsp grated Parmesan cheese
salt and pepper
1/4 cup pancetta cubes
1 small onion, diced
2 cloves garlic, minced
1 large sprig of rosemary, leaves removed and chopped
1 pinch saffron threads
1 cup arborio rice
1/2 cup of white wine
4 cups chicken stock, simmering
1/2 cup manchego cheese, grated (you can also sub different cheeses — Parmesan, feta, gruyere, goat cheese, I think they'd all work just fine)
Garnish: more chopped rosemary, grilled shrimp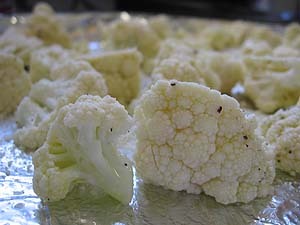 Preheat the oven to 425 degrees. Toss cauliflower with oil, parmesan, some salt and pepper in a large bowl. Spread evenly on a baking pan and roast in upper third of oven, stirring occasionally, until golden, 25 to 30 minutes. Set aside.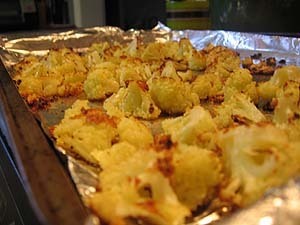 Now, heat up a big pot and add the remaining olive oil and the pancetta cubes, onion and garlic. Cook for about 2-3 minutes and add the rosemary and saffron.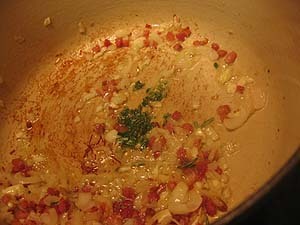 Next comes the rice. Add that to the pot and stir to coat in the oil and pancetta-y goodness. Add the wine and stir until it is mostly absorbed. Then, start adding the simmering broth (about 1/3 a cup at a time), stirring, adding more when the liquid in the risotto pot is almost absorbed.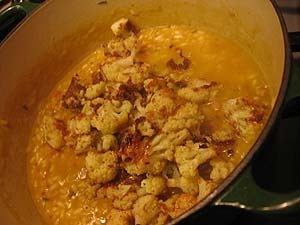 When you've gone through about half the broth, add the cauliflower (do not forget the golden Parmesan bits!) and continue to add more broth as it cooks. On your last addition of broth, add the cheese. And stir while it melts. Taste and salt and pepper as needed.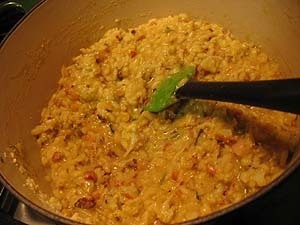 Serve in bowls with more chopped parsley duh, I meant rosemary, as a garnish and grilled shrimp on the side if desired. And really, who doesn't desire grilled shrimp on the side?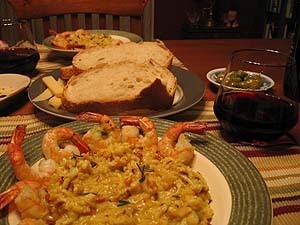 Red wine and bread on the side is also quite nice! Oh, hell, get a plate of green olives too…