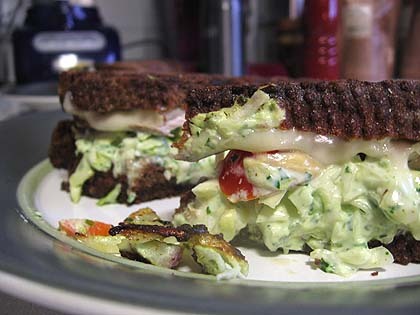 This was the best sandwich. Personally (and I know I am probably crazy) but I'm not a huge fan of corned beef or pastrami. I'm much happier with turkey or in this case, turkey pastrami.
So, this is kind of like a Ruben in that there is tasty bread (pumpernickel instead of rye), the earlier-mentioned turkey pastrami, swiss cheese and instead of sauerkraut, coleslaw. Oh and not just any coleslaw, fennel-herby coleslaw with orange zest.
It's kind of like a Tyler Florence recipe I recently saw on Tyler's Ultimate, except different (I went for cilantro and orange while he used lemon and tarragon). But, man, this was good. Throw in a grill pan for tasty grill marks and it's like heaven on a plate. Oh and I just know I will be making this coleslaw all Summer long, with or without Turkey Rubens in mind.
Fennel-Herb Slaw:
1 large fennel bulb, fronds removed and halved
1/2 orange, juiced
1/4 cup mayonnaise
1/4 cup sour cream or Greek yogurt
1 bag coleslaw mix
2 tbsp chopped fresh cilantro leaves
2 tbsp chopped fresh flat-leaf parsley
1 tbsp chopped chives
zest of 1/2 and orange
1 tbsp extra-virgin olive oil
Kosher salt and freshly ground black pepper
Finely slice fennel using a mandoline (again, not the instrument), or the grater attachment on your food processor or just a knife (I went the knife route).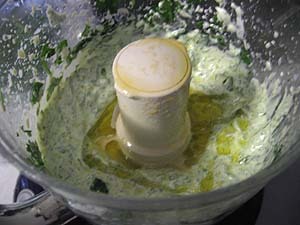 In a food processor, combine the orange juice, mayonnaise, sour cream, herbs and olive oil. Process until combined.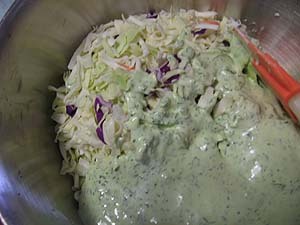 Add the dressing to the fennel and coleslaw mix and add the orange zest. Taste and season with salt and pepper.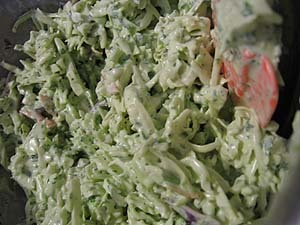 Make the Sandwiches
Slices of pumpernickel or rye bread
Turkey pastrami (or regular sliced turkey will work)
Dijon Mustard
Swiss Cheese
Tomato slices
Fennel-Herb Coleslaw
Olive oil
Lay the bread out and cover with the cheese and the turkey. Generously apply coleslaw.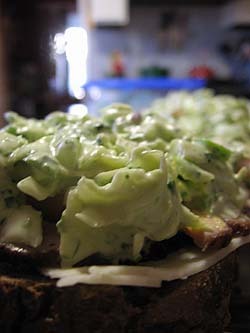 Top with tomato slices and spread a little Dijon mustard on the other bread slices before bringing the sandwich together.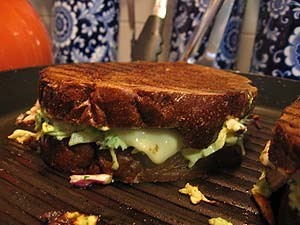 Heat a grill pan and add a little olive oil. Cook each side for about 3-5 minutes over medium heat. Covering will help the cheese meltage. You're not really trying to heat it completely all the way through, just get good grill marks and melt the cheese. That is all.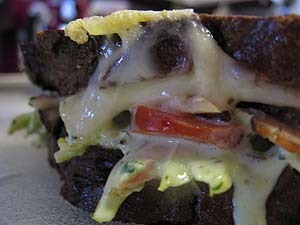 Let sit about 2 minutes before slicing in half.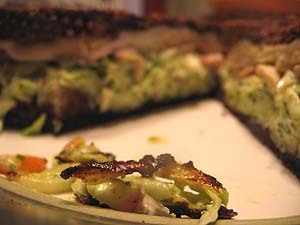 Holy crap that was tasty!
***
And now, it's Wedding Stuff: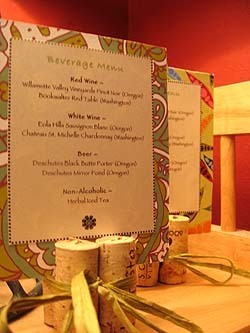 Oh look, I figured out the beverage menu stands (for the reception table). Four wine corks, tied together make a great stand for dinner menus or wine menus. I would love to take credit for this idea but I've seen it many places online…whoever came up with this? You are a genius!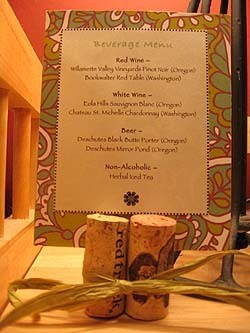 I made three of these tonight…only 5 more to go.