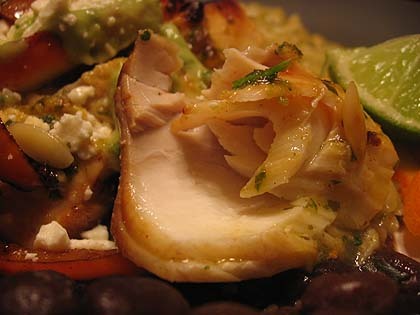 This was so good. It satisfies the hungry-hungry-not-easily-appeased Mexican food craving but also it's fish so it's healthy for you. Not a lot more to say. I will let the images do the talking.
Oh, here's a good thing to know — you will need at least two oranges for this recipe (based on halibut for two people). If your oranges are small or not very juicy you will need maybe three. So, uh, just buy three and be safe.
Chile-Glazed Halibut with Avocado-Tomatillo Sauce
Adapted from Bon Appétit magazine
Glaze
6 tbsp fresh orange juice (about 1 large orange)
6 tbsp honey
1 1/2 teaspoons minced canned chipotle chiles
1 garlic clove, coarsely chopped
1/4 tsp ground cinnamon
1 tbsp chopped cilantro
Sauce
1 large avocado, halved, pitted, peeled
1 big handful cilantro
1/4 cup tomatillo salsa
1/4 cup fresh orange juice (about another large orange, maybe one and a half)
1/4 tsp (or more) hot pepper sauce
Fish
2 6-8 ounce halibut fillets (each about 1 inch thick)
1 tbsp olive oil
1/2 orange with skin, thinly sliced crosswise (if it works out for you well, you can use other half of the orange you used for juice for the avocado sauce)
Ground cumin
1 bell pepper, cut into strips
4 green onions, cut into 4 inch pieces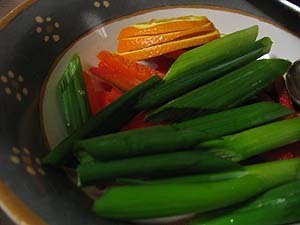 For glaze: Mix all ingredients in blender or food processor until smooth. Season with salt and pepper.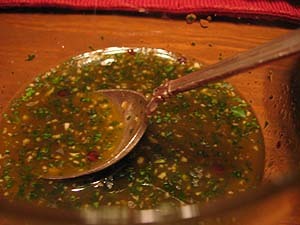 For Sauce: Combine all ingredients in blender or food processor; blend until smooth.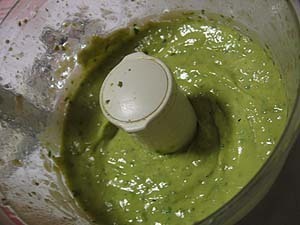 For fish: Make crosswise slits in each fillet, cutting to within 1/4 inch of bottom and spacing slits about 3/4 inch apart. Brush glaze over top and into slits. Place orange slices in slits.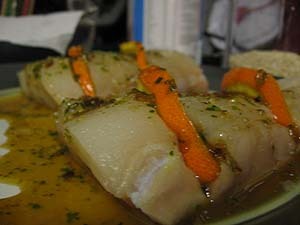 Heat a grill pan or skillet. Add the olive oil. Sprinkle fish with ground cumin, salt, and pepper. Place fish, orange side down. Grill for about 2 minutes. Add the bell peppers and green onions to the pan.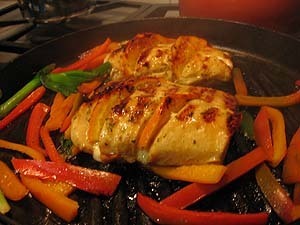 Flip over the fish and cover and cook until fish is opaque, about 6 minutes. Using wide spatula, carefully transfer fish to platter. Let rest several minutes. Spoon avocado sauce onto plates, spreading slightly. Arrange 1 fillet over sauce on each plate and serve.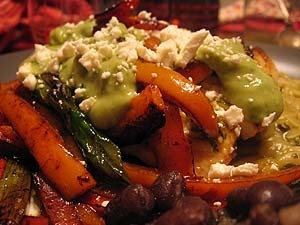 On the side we had black beans and the sauteed bell peppers. Okay, fine, there was also cheese involved. But, this was really one of the most awesome halibut dishes ever. Probably even if there had been no cheese involved. Evah!