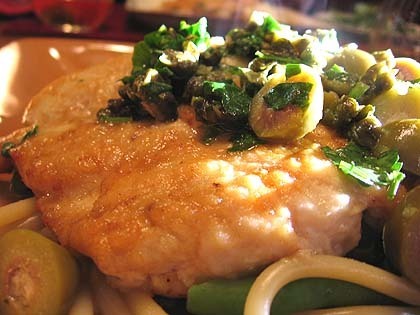 Oh! Oh! I totally forgot the "secret" ingredient! Based on the Fine Cooking recipe, I added about a tablespoon of honey in the sauce with the lemon, chicken stock & wine. I've amended the recipe below!
This was sort of one of those meals where I looked around at what we had and then figured out what to do with it. Chicken breasts? Yes. Capers? Right there. Lemons? Uh-huh. Wine? Well, duh. Feta stuffed green olives that I love-love-love? Oh yeah. So, here we go.
This recipe is also a combination of many different recipes I found online. The fried capers bit is from Fine Cooking magazine and the rest is a little bit Everyday Italian (Little Big Head) and a little bit I love my smoked paprika and I love my Parmesan cheese.
Chicken Piccata with Olives and Fried Capers
2 skinless and boneless chicken breasts, pounded flat*
Kosher salt and freshly ground black pepper
1/4 cup AP flour
1/4 cup Parmesan cheese
1 tsp smoked paprika
3 tbsp extra-virgin olive oil
2 tbsp brined capers, rinsed
1 clove garlic, minced
Juice of 1 big lemon (should be about 3 – 4 tbsp, you may need another lemon if yours isn't super juicy and/or big)
1/2 cup chicken stock
1/4 . . . → Read More: Chicken Piccata with Olives and Fried Capers