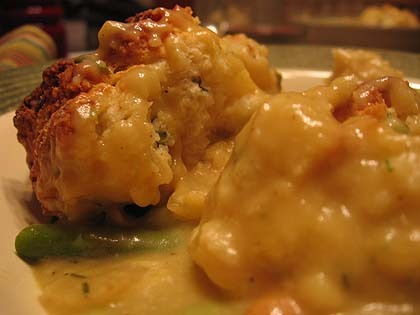 Now this is one of the ultimate comfort foods, ever. I actually tried to make a chicken pot pie before — maybe 5 years ago — and it was a complete disaster. Flavorless, too much work and just kind of meh. It's taken me 5 years to want to attempt another one. Wow, am I glad I did! This chicken pot pie is anything but meh…it is awesome!
It's also a great project for a Saturday or Sunday, it seems like there are a lot of steps, but it goes very quickly. Plus, you can use up lots of vegetables, pretty much add any combination that you have. I subbed frozen lima beans for the peas and added about 4 stalks of cut up (about 1 inch pieces) of asparagus right before I added the flour.
Oh, diced butternut squash would probably be wonderful in this, or maybe even some sweet potato chunks! This is based on a recipe in Gourmet magazine, but that was for a turkey pot pie with a cheddar-biscuit crust, so, really this is much different!
Chicken Pot Pie with a Feta Herb Biscuit Crust
For filling:
1 lb chicken breasts, cut into bit-sized pieces
1 tbsp olive oil
1 medium onion, coarsely chopped
3 cloves garlic, minced
2 large carrots, cut into 1/2-inch pieces
1 tsp chopped thyme
1/2 tsp chopped rosemary
3 tbsp unsalted butter
1/2 pound mushrooms, trimmed and quartered
1/4 cup all-purpose flour
1 cup frozen baby peas, thawed
1/2 cup dry white wine
1 1/2 cups chicken broth
1 cup fat-free milk
3 tbsp Parmesan cheese
For biscuit crust:
2 cups all-purpose flour
2 tsp baking powder
1 tsp baking soda
1/2 tsp salt
1/2 tsp black pepper
1/2 cup feta cheese crumbles
1/4 cup grated Parmesan cheese
6 tbsp cold unsalted butter, cut into 1/2-inch pieces
1 1/4 cups well-shaken buttermilk
1/4 cup mixed chopped herbs (chives, rosemary, thyme, and sage are good, and although it is not an herb, so are green onions)
Add olive oil to large pot and brown chicken over medium-high heat for about 4-5 minutes until golden. Remove and set aside, leaving any extra oil in pan.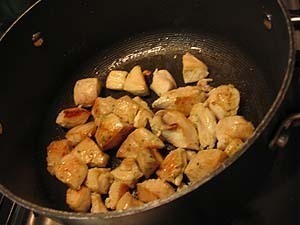 In that pan, add the 3 tablespoons of butter and cook the onion, garlic, carrots, rosemary and thyme with 1/2 teaspoon salt and 1/4 teaspoon pepper, over medium heat, stirring occasionally, until vegetables are almost tender, 10 to 12 minutes. Add mushrooms and cook, uncovered, stirring, until tender, 5 to 7 minutes.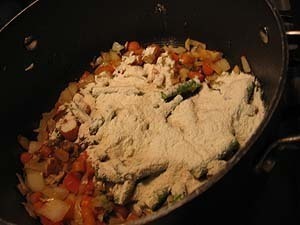 Sprinkle with flour and cook, stirring constantly, 2 minutes. Stir in wine, broth and milk, scraping up any brown bits, and bring to a boil, stirring, then simmer until slightly thickened, about 3 minutes. Stir in chicken pieces, peas, Parmesan and salt and pepper to taste. Reheat over low heat just before topping with biscuit crust.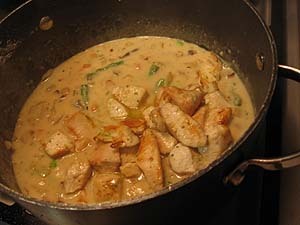 Preheat oven to 400°F with rack in middle.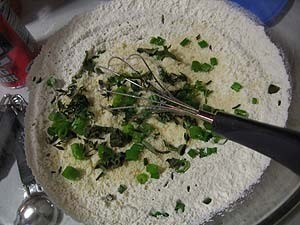 Sift together flour, baking powder, baking soda, salt, and pepper into a medium bowl. Add cheeses and herbs and toss to coat.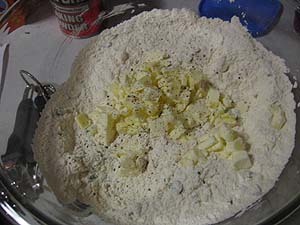 Blend in butter with a pastry blender or your fingertips until mixture resembles coarse meal. Add buttermilk and stir just until a dough forms.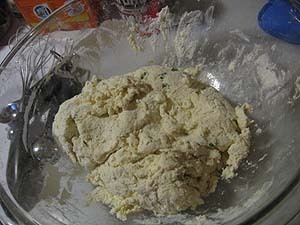 Drop biscuit dough onto filling in 8 large mounds, leaving spaces between biscuits. If you have extra biscuit dough, drop them down on a cookie sheet and bake alongside the pie, for about 15 minutes.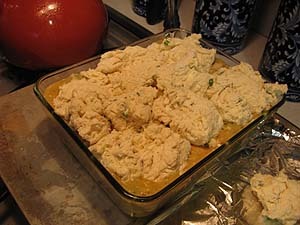 Bake until biscuits are puffed and golden brown and filling is bubbling, 35 to 40 minutes.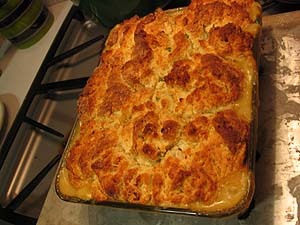 Let stand 10 minutes before serving.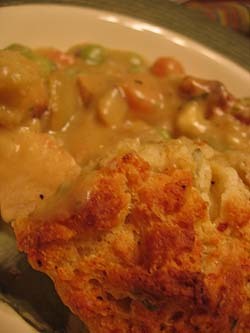 Oh! So good. And besides a wonderful dinner, we will be having tasty lunches this week for sure.