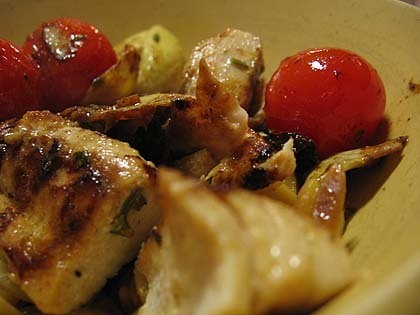 We try to bring lunch during the week to save money and to eat healthier. I have also been trying to enforce a fish 2x a week for lunch rule. Eh, most times it's more like once a week, but we're trying! Sometimes this means tuna, not the ( good awesome kind) and sometimes that means other things.
This is my new favorite other thing and I think jwa like it a lot too. That is no small feat. He is very skeptical of fish (especially fish tagged with Cheap Fish Project, which this is — $5/lb, frozen, at Trader Joe's).
I've also discovered a new, fun thing to do with orzo — toast it in the pan with olive oil before cooking it with the boiling water. It gives it a nutty taste that is quite delicious!
This is also easy to whip up the night before specifically to bring to work the next day.
Orange-Rosemary Grilled Mahi Mahi
Marinade:
1 tbsp orange zest
2 tsp chopped fresh rosemary
2 garlic cloves, minced
Juice of half an orange
3 tbsp olive oil
1 tsp white wine vinegar
Fish:
1 lb mahi mahi, cut into bite-sized cubes
salt & pepper
juice from the other half of the orange
a little more olive oil
Everything Else:
3/4 cup orzo
1/4 tsp chopped rosemary
1 tbsp olive oil
6 cherry tomatoes, halved
4-5 artichoke hearts, halved
6 green olives, halved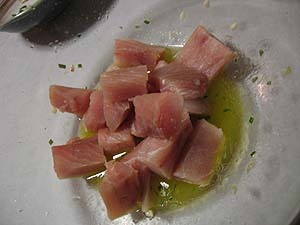 Whisk all the marinade ingredients (orange zest through vinegar) together in a bowl or a freezer bag. Add the fish and marinate in the fridge for about 1-2 hours.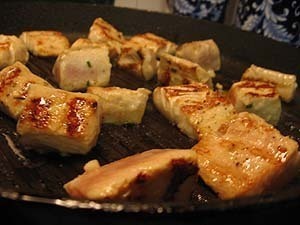 Heat a grill pan (or a regular skillet) and just drizzle a little of olive oil in the pan. Hit the fish with a little salt and pepper and cook until just barely opaque — about 2-3 minutes per side. After you turn the fish over the first time, add the artichoke hearts and the cherry tomatoes to the pan while you cook the other side of the fish. When it's done, remove everything from the pan and set it aside in a bowl. I squeeze the other half of the orange on the fish, artichoke hearts and tomatoes and cover it up with aluminum foil.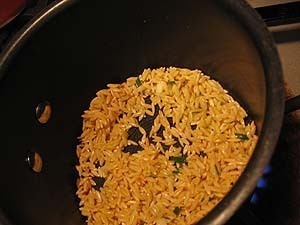 Heat the other tablespoon of oil in a small pot and add the orzo and rosemary. Toast for a minute or two, then add some water and bring to a boil. Add some salt. Cook until done, about 8-10 minutes. Drain.
Assemblage
Divide the orzo among your plates (or containers). Then add the tomato/fish/artichoke heart/OJ mixture and the olive halves. Top with a few crumbles of feta, if you are feeling fancy and perhaps a drizzle of olive oil.
If you're bringing this for lunch the next day, it keeps and travels very well and people will see your lunch and get all jealous. Ha!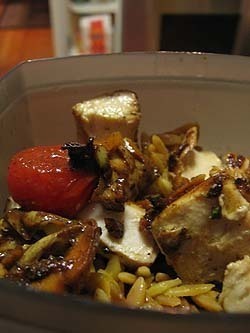 Just give it about 1.5 minutes in the microwave (on full power) to reheat.