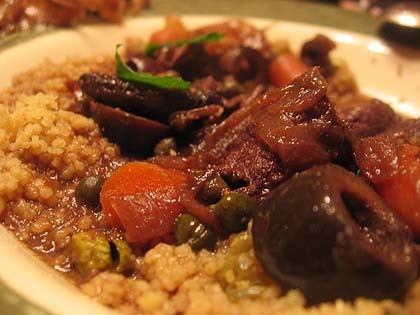 This month's Weekend Cookbook Challenge is hosted by Mel's Diner with the aptly chosen, Celebration Dishes as the theme. For this, I chose my newest cookbook, Nigella Express and made a lamb stew from it.
She calls it a tagine, but since I didn't cook it in an actual tagine and I'm not familiar enough with Moroccan cooking to judge it's accurateness, I'm certainly not going to call it a tagine. So, uh, no one get their knickers in a twist.
Anywho….I used a mix of olives here, mainly because that's what I had — nicoise, kalamata and a handful of plain black, pitted olives. But, I'm thinking oil cured might be super tasty here. I also just made my own caramelized onions, rather than hunting down a jar of them (as the recipe calls for). I have never even seen jarred caramelized onions…maybe that's a British thing? Another thing I changed is that I added carrots. I just felt the need for more vegetables with the big meatiness of the stew.
Let's celebrate!
Lamb Stew with Olives and Caramelized Onions
Adapted from a recipe by Nigella Lawson
2 1/4 pounds diced leg of lamb
1 head garlic, separated into cloves
12 ounces . . . → Read More: WCC 23: Celebratory Lamb Stew with Olives and Caramelized Onions