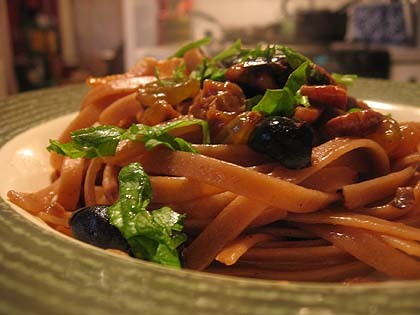 Okay, I am turning over a new leaf. I am going to try really, really hard to get back into posting at least 3 times per week. Really!
Here's a super-good pasta recipe. When we were in Ashland last October, I caught some of Lidia's Family Table on PBS and fell in love with the recipe. I made it almost immediately when we got back. I loved it. jwa thought the flavors were a little strong, but still liked it. So, this is one of those recipes where half the people think it's the cat's pajamas and the other half thing it's good but not pajama-worthy. Of course, this was a sample size of two, so you know…ymmv.
Linguine with Black Olives, Pine Nuts and Raisins
Recipe from From Lidia's Family Table,' by Lidia Matticchio Bastianich
1 pound uncooked capellini OR other thin dry pasta such as spaghettini or linguine (I used wheat linguine)
1/2 cup extra virgin olive oil
5 plump garlic cloves, sliced (about 1/3 cup)
1 1/2 cups oil-cured black olives, pitted and chopped into 1/3-inch pieces
1/2 cup golden raisins
3 tbsp fine long threads of orange zest
2/3 cup fresh-squeezed orange juice
1 cup pine nuts, toasted in a dry pan
Hot water from pasta cooking pot
Salt
1 tbsp chopped fresh Italian parsley
Optional: chopped arugula for a garnish — my addition
Heat a large pot of salted water to boiling. Five minutes before starting sauce, plunge pasta into boiling water. Pour 1/3 cup olive oil into a large skillet, add garlic slices and place over medium-high heat. Cook about 1 1/2 minutes, shaking pan, until garlic starts to color.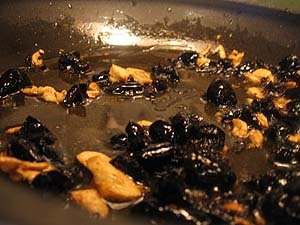 Add olives and stir with garlic. Cook another 1 1/2 minutes, shaking pan occasionally, as olives sizzle and caramelize. Add raisins and cook, stirring, 1/2 minute. Stir in orange zest, and cook, stirring, 30 seconds or more, until sizzling.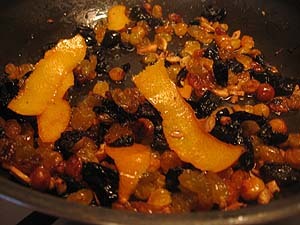 Carefully pour in orange juice (it will sizzle). Stir to moisten everything. After 20 seconds or so, stir in toasted pine nuts; stir to moisten. When orange juice has nearly evaporated, ladle in 2 cups boiling pasta water. Boil and stir sauce 3 minutes or more (while pasta is cooking). When sauce is reduced by half, stir in 1/4 teaspoon salt. Taste; add more salt if necessary. Stir in another tablespoon olive oil. Reduce heat to keep sauce hot until pasta is ready.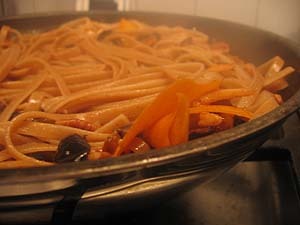 When the pasta is just shy of done, pull it out and add it to the pan with the sauce. Finish the sauce and pasta together in skillet, adding a little more pasta water or reducing it as necessary. Stir in parsley. Remove from heat; toss in a final tablespoon of olive oil. Makes 3 to 4 servings. Top with a little arugula if desired. I liked the green color on top and thought the greens helped lighten the flavor up a bit.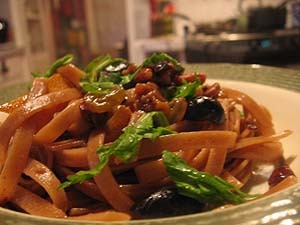 Okay. Coming up next week: Fruitcake update, December's WCC post and lima bean-tarragon soup.