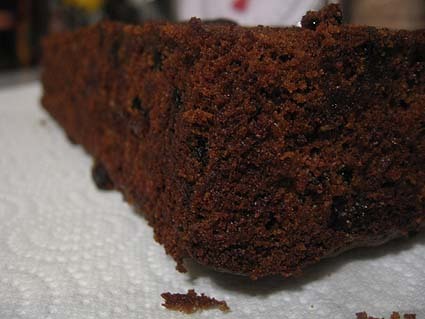 I have always been fruitcake-curious. So, this year, I decided what the hell, I'll make one. The recipe is Alton Brown's Free Range Fruitcake. And I made a special trip (to Trader Joe's) for all the dried fruit and everything. We had the rum and the brandy already. Go figure.
This is a Part I, as I will have to baste the fruitcake(s) with brandy every 2-3 days for the next 2-3 weeks. How fun! It's like an ongoing project with alcohol.
AB's Free Range Fruitcake
1 cup golden raisins
1 cup currants
1/2 cup dried cranberries
1/2 cup dried blueberries
1/2 cup dried cherries
1/2 cup dried apricots, chopped (I used dried peaches)
Zest of one lemon, chopped coarsely
Zest of one orange, chopped coarsely
1/4 cup candied ginger, chopped
1 cup gold rum (I used dark rum)
1 cup sugar
1 1/4 sticks (not cups!) unsalted butter (that's 10 tbsp)
1 cup apple juice
1/4 tsp ground cloves (or 6 whole cloves, ground)
6 allspice berries, ground (I had whole allspice berries but I was too lazy to clean out my coffee grinder,and grind them, so I just skipped them)
1 tsp ground cinnamon
1 tsp ground ginger
1 3/4 cups all purpose flour
1 1/2 tsp salt
1 tsp baking soda
1 tsp baking powder
2 eggs
1/4 cup toasted pecans, broken
1/4 cup toasted hazelnuts, broken
Brandy for basting and/or spritzing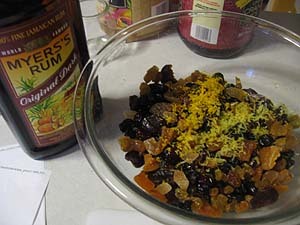 Combine dried fruits, candied ginger and both zests. Add rum and macerate overnight, or microwave for 5 minutes to re-hydrate fruit. I went the microwave route — it worked fine!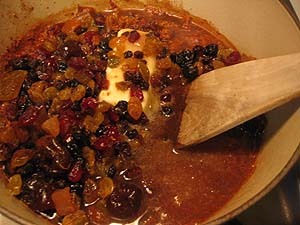 Place fruit and liquid in a non-reactive pot with the sugar, butter, apple juice and spices. Bring mixture to a boil stirring often, then reduce heat and simmer for 5 to 10 minutes. At this point, I must confess, I grabbed a spoon and tasted it. Wow. It was so good! I was on the phone with my mom at the time (who likes fruitcake, btw) and told her how good it was as well. She is looking forward to trying some when she is here for Christmas.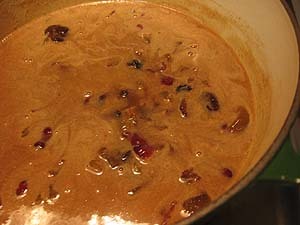 So, remove your pot of fruit, rum and butter from heat and cool for at least 15 minutes. (Batter can be completed up to this point, then covered and refrigerated for up to 2 days. Bring to room temperature before completing cake.) Heat oven to 325 degrees.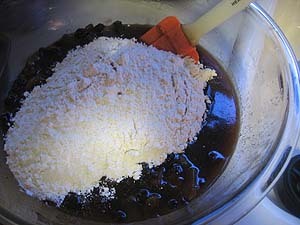 Combine dry ingredients and sift into fruit mixture. Quickly bring batter together with a large wooden spoon, then stir in eggs one at a time until completely integrated, then fold in nuts. Here, I used half toasted hazelnuts and half pecans. About 1/2 cup total.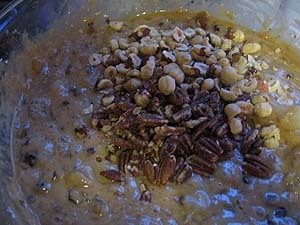 Spoon into a 10-inch non-stick loaf pan and bake for 1 hour. But here's the thing — I had enough batter for 2 loaf pans! They each got filled up about 2/3's of the way but it would have been way too much for one pan. If you've got a huge loaf pan, you might be fine with just one. Since my loaf pans were of the slightly smaller variety and not filled all the way up, mine were done in about 42-45 minutes. Check for doneness by inserting toothpick into the middle of the cake. If it comes out clean, it's done.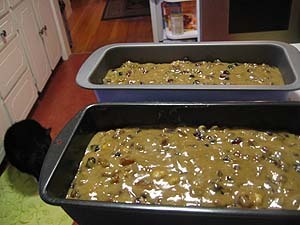 If the toothpick (or knife) does not com out clean, bake another 5-10 minutes, and check again. Remove cake(s) from oven and place on cooling rack or trivet. Baste or spritz top with brandy and allow to cool completely before turning out from pan. My cakes came out pretty easily. I ran a knife around the edges and the used a metal spatula to start lifting up from the sides and loosening the cakes from the bottom. Then I turned them upside-down and out they came.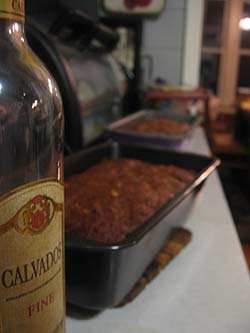 When cake is completely cooled, seal in a tight sealing, food safe container. I am using freezer bags. Every 2 to 3 days, feel the cake and if dry, spritz with brandy. The cake's flavor will enhance considerably over the next two – three weeks. Come Christmas time, you will have one tasty, boozey cake! Hooray!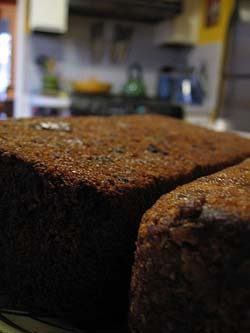 Okay, so I'll probably do a mini-update each week on my fruitcakes basting until Christmas. Stay tuned…