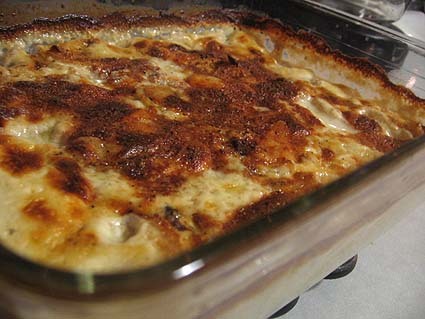 Here's a holiday side dish that we had on Christmas. It has all the things that make a holiday meal great — fatty, delicious, forbidden pork products, heavy cream and cheese. But, you know, it'll still work after the holidays. It's just a bit harder to justify…maybe if you only have a small taste. Yeah.
Parsnip and Hazlenut Gratin with Pancetta
Adapted from a recipe in Bon Appétit
2 oz pancetta, chopped
2 pounds parsnips, peeled, trimmed, thinly sliced lengthwise
1/2 cup hazelnuts, chopped, toasted, divided
2 cups whipping cream
1 tsp dried, rubbed sage
1 cup low-salt chicken broth
1 1/2 tsp kosher salt
1 tsp ground black pepper
1/4 cup parmesan cheese + 2 more tbsp
2 tbsp minced fresh sage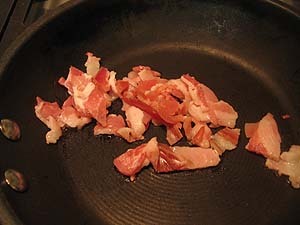 Preheat oven to 400 degrees F. Sauté the pancetta in a heavy, medium skillet over medium-high heat until golden brown, about 6 minutes. Using slotted spoon, transfer to large bowl.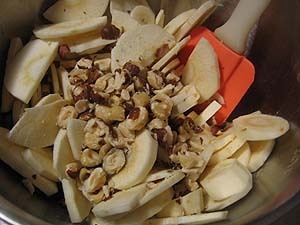 Stir in parsnips and 1/4 cup hazelnuts into the bowl with the pancetta. Then, arrange mixture in even layer in 2-quart baking dish. In a small pot, combine the cream, broth, salt, dried sage and pepper and bring to a simmer over medium heat. Stir in the 1/4 cup of parmesan . . . → Read More: Tasty, Tasty Side Dish: Parsnip-Hazlenut Gratin with Pancetta and a PSA