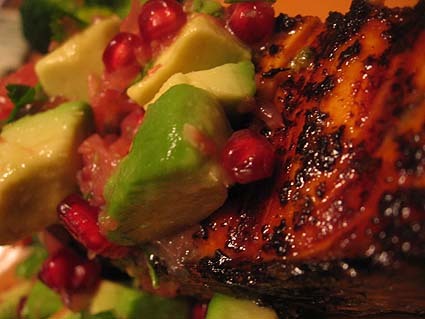 Okay, vacations are hard. I mean, it's hard to get into the posting habit after a break. But I'll try my best.
The other night — fine, last Sunday — jwa and I had some grilled salmon and a salsa with avocado, pomegranate seeds and grapefruit. This is a recipe I came across last year at the blog Frugal Cuisine, and one that I so fell in love with that I made as part of Christmas dinner. Recently, I thought it might go well with salmon. It did. In addition to the pomm, avocado and grapefruit, I added a bit of diced red onion and chopped cilantro for this version.
And we'll probably have it again on Christmas. So good.
Grilled Salmon w/ Pomegranate, Avocado & Grapefruit
1 grapefruit
1 pomegranate (you'll have some seeds leftover)
2 tbsp finely diced red onion
1 avocado, peeled and diced
1 handful cilantro, chopped
2 salmon fillets
another handful of cilantro
1/4 cup olive oil
2 tbsp white wine vinegar
2 cloves garlic
salt and pepper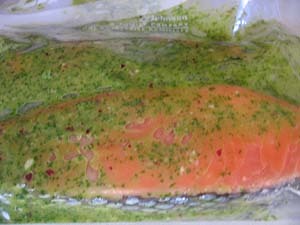 To start, I made a quick marinade by combining the olive oil, vinegar, 1 handful cilantro, a little red onion and garlic in a food processor. Then, I marinaded the salmon in the fridge for a couple of hours.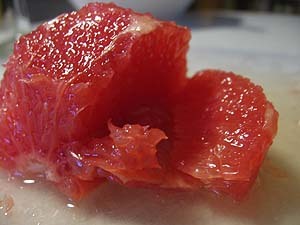 To make the salsa peel and cut the segments out of the grapefruit. Cut those in half and toss with any grapefruit juice that has accumulated on your cutting board, a little diced red onion, the avocado, a little red onion and the chopped cilantro. Add maybe half your pomm seeds. Season a little with salt and pepper. Let it hang out while you cook your fish.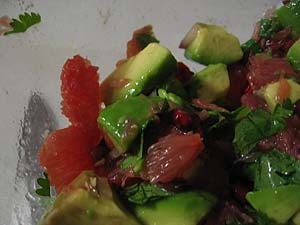 Heat up a grill (or other) pan and cook the salmon (season it first with salt and pepper) about 3-5 minutes per side, depending on the thickness. I did mine about 5 minutes and then 4 minutes on the other side. Remove from the pan and cover with foil. Let it sit for about 5 minutes.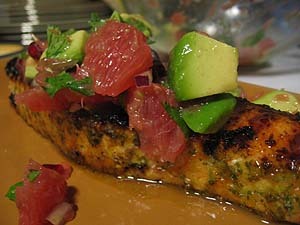 Put a salmon fillet on each plate and top with the salsa. We had this with a side of steamed broccoli. Healthy!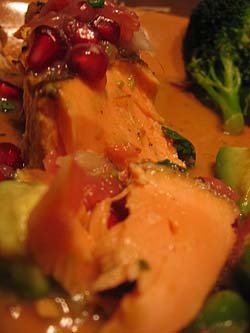 Now, pass the Christmas cookies…
PS: Hooray for Hadley August!