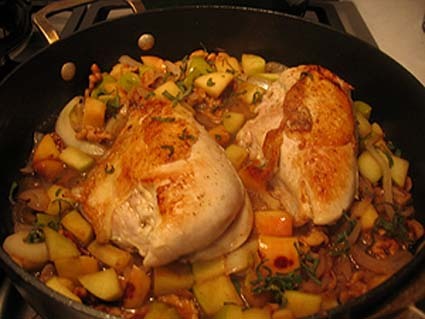 We had this meal a couple of weeks ago and I think we'll have to have it again soon. It was really tasty. The original recipe called for chicken thighs but it worked really well with chicken breasts. You could probably go with skinless and boneless (that would take less cooking time) but go ahead and live a little and use bone-in breasts.
Seriously, this was really good. Give it a few days before you actually want to cook again after Thursday and then make this…
Braised Chicken with Apples and Sage
Adapted from a recipe in Gourmet magazine
2 big chicken breasts with skin and bones (you could probably get away with 3-4 breasts with the amount of sauce that this makes, but lost of sauce is good so it woks with 2 breasts fine)
1 1/4 tsp salt
1/2 tsp black pepper
1 tbsp olive oil
1 tbsp unsalted butter
1 tbsp packed brown sugar
2 apples (preferably Gala; 3/4 lb total), peeled, cored, and cut into 1/2-inch-thick wedges — I used one Gala and one Granny Smith, and I didn't peel
1/4 cup toasted walnuts
1/2 cup chopped shallots (2 to 3) — I subbed half a white onion as I didn't have any shallots
2/3 cup reduced-sodium chicken broth
1 tsp cider vinegar
1/2 tsp chopped fresh sage (rosemary would work well too)
Pat chicken dry and sprinkle all over with salt and pepper. Heat oil in a 12-inch heavy skillet over moderately high heat until hot but not smoking, then brown chicken well, starting with skin sides down and turning over once, 10 to 12 minutes total. Transfer chicken to a plate and pour off some of the fat if you have a lot in the pan — you want about 1 tablespoon in the skillet.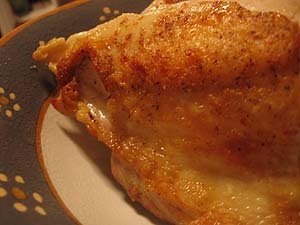 Add butter, brown sugar, apples, walnuts and shallots to fat in skillet and cook over moderate heat, stirring occasionally, until apples are browned, about 5 minutes.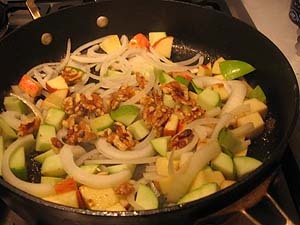 Add broth, vinegar, and sage and deglaze skillet by boiling, stirring and scraping up any brown bits, 1 minute. Return chicken, skin sides up, to skillet along with any juices accumulated on plate. Reduce heat and simmer, loosely covered with foil, until chicken is cooked through and sauce is slightly reduced, 30-35 minutes. Check the temperature — you want it to be about 165 degrees.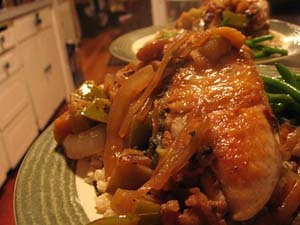 Mmmm….it's moist and tasty!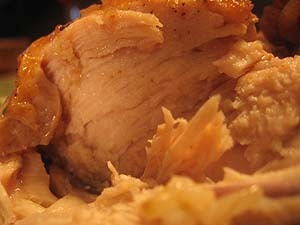 Okay, off to California Wednesday. Have a nice Thanksgiving, everyone!