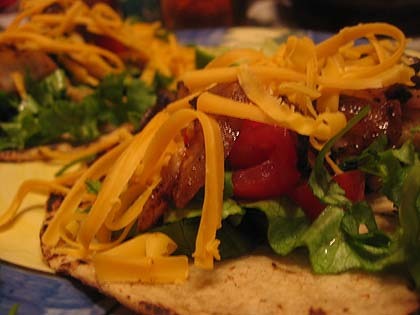 Ah, a challenge that involves math. How fun. The theme was supplied by Cady at $40 a Week, which as you might see coming, was to spend $40 a week on groceries (per person) and come up with a meal based on those constraints.
Here, I will admit my laziness at not entirely sticking to the challenge as written. Although our grocery budget (for 2) is about $80/week, I didn't specifically track that and actually, this week, I think we were a tad over since we decided to stock up on some wine.
But, through the magic of calculations, I deduced that if the budget was $40/week, that would work out to $5.72/day. Times two that's $11.44 per day for two. And sure, that would mean that fish tacos are the only meal of the day but I am assuming that eating out doesn't count. Right?
Plus, if I don't see what jwa eats during the day and he doesn't actually see what I eat — well, then that too doesn't count. For the record, I had a cereal bar for breakfast and a turkey and cheese sandwich (and cup of lentil soup) for lunch. And I uh, found them. Yeah. I found them so they were free. So, I get the whole $11 amount for the dinner. Hooray!
fish: $4.50
4 corn tortillas: $1
romaine lettuce: $1
1 can beans: .99
1 cup shredded cheese: $1
tomatoes: $1
lime: .33
jalapeno: .20
cilantro: .79
assorted spices: free ('cuz I already had them)
oil: free (see assorted spices)
Total: $10.81 Woo!
This recipe is based on one from Bobby Flay which I'm sure is in one of his cookbooks. And yeah, I still am not a fan but whatever. I'll use his recipe as long as I don't have to interact with him or anything. 'Cause that would be annoying.
Fish Tacos
(Feeds 2)
1/2 pound white flaky fish, such as mahi mahi, tilapia or turbot, which is what I used
1/4 cup canola oil
1 lime, juiced
1 tbsp chili powder
1 jalapeno, coarsely chopped
1/4 cup chopped fresh cilantro leaves
4 flour tortillas
Garnish:
Shredded romaine lettuce
Hot sauce
Shredded cheddar cheese
Chopped cilantro leaves
Chopped cherry tomatoes
Place fish in a medium size dish. Whisk together the oil, lime juice, chili powder and jalapeno and pour over the fish. Let marinate for 15 to 20 minutes.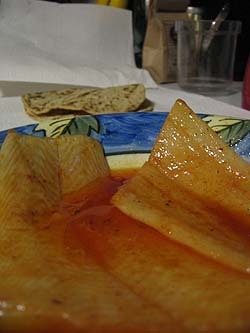 Preheat a pan over medium heat. Remove the fish from the marinade place into the hot pan. Grill the fish for 4 minutes on the first side and then flip for 30 seconds and remove. Let rest for 5 minutes then flake the fish with a fork.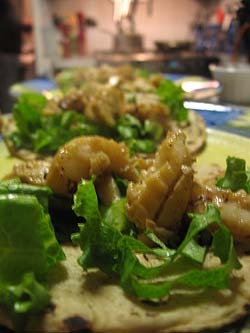 Wipe the pan out and return it to the heat. Place a tortilla in the pan and heat for about 30 seconds per side. Divide the fish among the tortillas and garnish with any or all of the garnishes.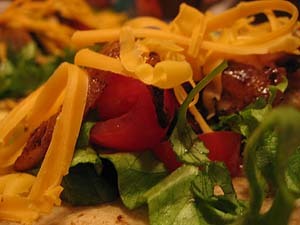 Thanks again to $40 a Week for a great and challenging theme!