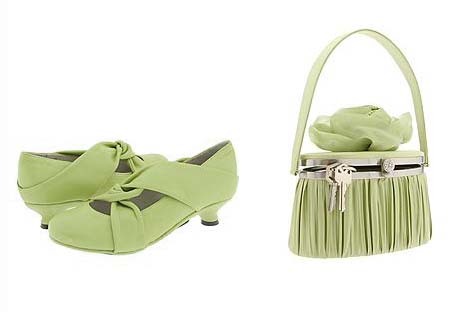 And bag. Which was something that I wasn't going to get but then I changed my mind when I saw this bag at Zappos. Besides, what if I want to bring the camera? Or Lipstick? The room key? See, I need a bag! Especially when it is an awesome light green bag. I really had no choice.
The shoes are a citron-y green (Zappos called them yellow but I call them citron-y green) and the purse is celadon but pretty much matches the shoes. Perfect! Oh and the shoes are so comfy! Hooray! Shoes are J Shoes and the bag is by Inge Christopher. I have no idea why the picture has keys in it. The bags did not come with keys…
And I still love the brown pumps, but I can wear those normally, so I'll still get use out of them. Okay, I'm going to try really hard to get my WCC post up tomorrow.