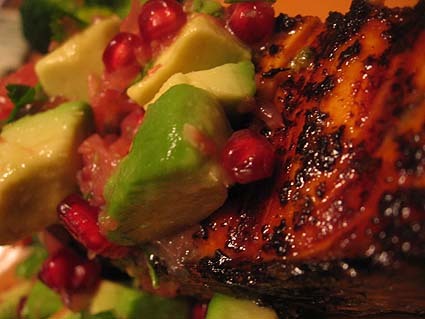 Okay, vacations are hard. I mean, it's hard to get into the posting habit after a break. But I'll try my best.
The other night — fine, last Sunday — jwa and I had some grilled salmon and a salsa with avocado, pomegranate seeds and grapefruit. This is a recipe I came across last year at the blog Frugal Cuisine, and one that I so fell in love with that I made as part of Christmas dinner. Recently, I thought it might go well with salmon. It did. In addition to the pomm, avocado and grapefruit, I added a bit of diced red onion and chopped cilantro for this version.
And we'll probably have it again on Christmas. So good.
Grilled Salmon w/ Pomegranate, Avocado & Grapefruit
1 grapefruit
1 pomegranate (you'll have some seeds leftover)
2 tbsp finely diced red onion
1 avocado, peeled and diced
1 handful cilantro, chopped
2 salmon fillets
another handful of cilantro
1/4 cup olive oil
2 tbsp white wine vinegar
2 cloves garlic
salt and pepper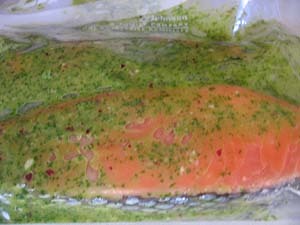 To start, I made a quick marinade by combining the olive oil, vinegar, 1 handful cilantro, a little red onion and garlic in a food processor. Then, I marinaded the salmon in the fridge for a . . . → Read More: Grilled Salmon w/ Pomegranate, Avocado & Grapefruit