First of all, thanks so much to Sara of Weekend Cookbook Challenge for letting me guest-host this month! I had a great time picking a theme and I hope everyone had fun participating. And here are some nifty new seasonal recipes to try this month.
So, what kind of food does Halloween evoke? Soups, root vegetables, apples, huge fancy meals, snacks and sweets. Plus scary meat products! There's a little bit of everything — something for everyone!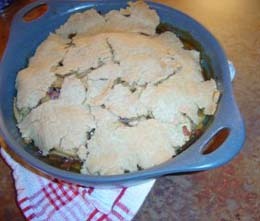 Okay, first up is the above mentioned Sara of WCC and I Like to Cook fame with this wonderful looking Pam's Ham and Apple Breakfast Pie adapted from Bruce Aidells's Complete Book of Pork: A Guide to Buying, Storing, and Cooking the World's Favorite Meat. I bet her house smelled amazing while this was baking in the oven.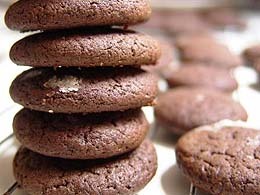 Gretchen, over at Canela y Comino in Peru turned to Cooking Light for inspiration and came up with a batch of Chocolate Gingersnap Cookies. Mmmmmm…ginger. Now these would sure be a great post snack after a Halloween meal!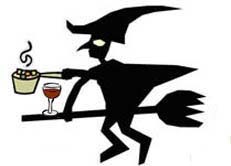 My friend Vanessa sent me an awesome sounding recipe from one of her favorite cookbooks, Zuppa! by Annie Bianchi. Here's a recipe for Ceci, Mele, Salisoccia E Patate Alla Garfagnana (Chickpeas, Apples, Sausage and Potatoes Garfangnana Style). Although she forgot to take a picture, I think we can imagine how tasty it looked!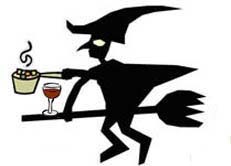 Next up is Colleen, from Naperville, IL. Hey — that's kind of by where I grew up! Neat. Colleen also picked a soup, Gelbe Erbsen Suppe, auf Berliner Art (Berlin Style Split Pea Soup. Like all good Fall meals, she says it's "a wonderful tummy-warming dinner when you add warm bread and a nice side salad of baby greens & sauteed pears."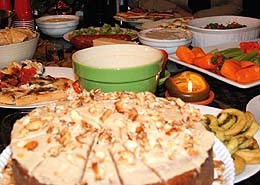 My friend Christy at Beehive, who besides being like seven months pregnant, made an amazing Fall Feast for her Denver friends including Martha Stewart's Pumpkin Cake with Brown Butter Icing. Damn! That all looks so good!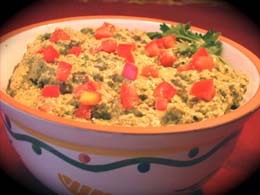 Okay. Who's next? It's LizG from Bits 'n Bites who made a highly snackable Toasted Pepita Dip from the Whole Foods Market Cookbook. I'm not sure it gets any more Halloween-y than pumpkin seeds.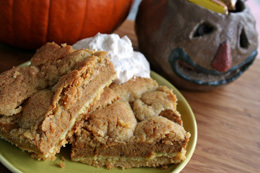 Molly at Batter-Splattered (great blog name!) created some delicious looking Quick and Easy Pumpkin Pie Bars from Heartland Baking from the Midwest's Best Cooks. She says, "The crust and the topping gets plump and crispy and chewy while still maintaining its crustyness on the bottom layer." Mmmmm!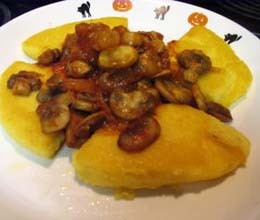 Deborah of What's in my Kitchen? asks, "Polenta = Halloween?" Uh, yes, I say! Yes! The answer to every question is polenta! Here she decides on Crispy Polenta with Mushrooms, from Cooking for Two by Bruce Weinstein & Mark Scarbrough. This was her first time joining in WCC and I'm really glad she did. Oh and I love the Halloween bowl.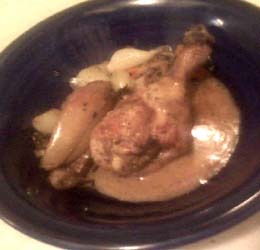 Cady at $40 a Week went all out and prepared Poulet a la Normande from Chez Panisse Fruit, while taking advantage of a yard full of apples ready to be harvested. Also, what's more festive than lighting your Fall foods on fire? Exactly. A meal that's both entertaining and delicious!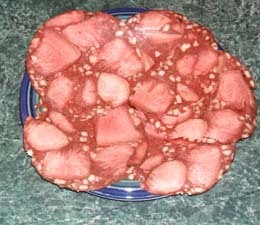 Into the homestretch here, people! Now Mike at Mel's Diner took one for the whole WCC21 team and made the scariest recipe of the bunch — Zungenwurst. Not sure what that is? Well, it's tongue pieces with pork fat in blood. Boo! Of his special WCC Halloween experiment he says, "I didn't like it. I didn't hate it, but it left a odd, disgusting aftertaste in my mouth." Aw, poor Mike will need lots of Halloween candy to make the taste go away.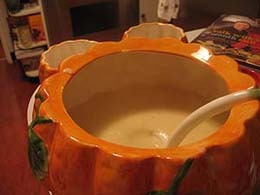 Finally, I made Honey Roasted Parsnip Bisque from Talk with Your Mouth Full. Both jwa and I liked it quite a bit and it was suitably Halloween-ish as we typically use parsnips for the noses on our jack o'lanterns!
Okay, whew! We made it through. If I missed your entry please send me an email and let me know. I'll get it up asap.
Thanks again to Sara for letting me guest-host. I certainly have gained a newfound appreciation for how much work she must put into WCC each month!