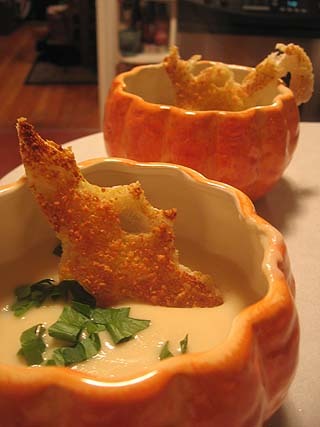 I recently got the cookbook, Talk with your Mouth Full by Dan Smith and Steve McDonagh and I absolutely love it. So many pages turned down of recipes that I want to make. This first one I thought would be perfect for the Halloween theme I chose for this month's Weekend Cookbook Challenge, which I am super excited to be guest-hosting.
Now, the recipe itself isn't particularly "Halloweeny" but it is when you add bat and black cat shaped Parmesan croutons and serve it in a big pumpkin soup tureen! Although, every year when jwa and I carve pumpkins, we do use parsnips for the noses, so there you go.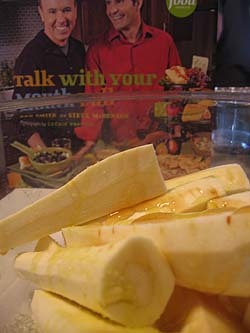 Roasted Honey Parsnip Bisque
2 pounds parsnips, peeled and quartered lengthwise
1/4 cup vegetable oil (I subbed olive oil)
3 tsp salt, divided
6 tbsp honey, divided
6 cups water
1 bunch parsley
1 carrot, cut in 1/2
1 small onion
2 bay leaves
1/2 tsp black peppercorns
2 tsp white pepper (I used regular, freshly ground black pepper)
3 cups heavy cream (here, I used about 1.5 cups half and half)
Garnish: chopped fresh parsley
Preheat the oven to 375 degrees F. Toss the parsnips with the oil and 1 teaspoon of salt and drizzle with 3 tablespoons honey. Place on a baking sheet and put into the top half of the oven. Roast 30 minutes, or until the parsnips are a deep golden brown; they tend to burn easily so make sure to toss often while roasting.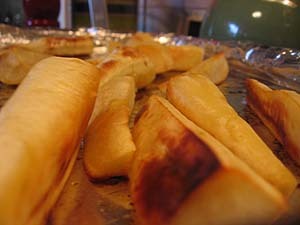 Meanwhile, put the water into a large pot and place over high heat. Lay a double layer of cheesecloth on a flat surface and place the carrot, onion, parsley, bay leaves and peppercorns in the center. When I did this, I couldn't find my kitchen twine, so I just tied the cheesecloth up around everything. Then I realized I forgot my carrots. So, I just added those to the pot, figuring I would fish them out later. Oh and I threw in a garlic clove too.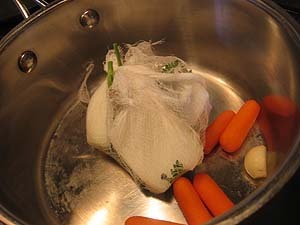 Tie the cheesecloth up and around the vegetable and herb mix and drop it into the water. Bring to a boil, lower the heat and simmer for 30 minutes.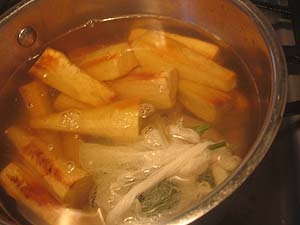 Remove the parsnips from the oven and place them immediately into the stock. Add the remaining honey and salt and white pepper; simmer for about 20 minutes. Puree with an immersion blender, or in batches in a blender.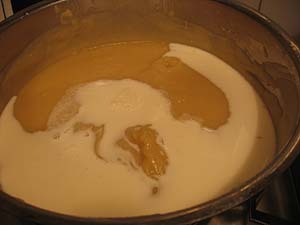 Return to the saucepan and add the cream (or half and half) and pepper. I found when I did this that a cup and a half made it super creamy so I just stopped there. Feel free to add the whole 3 cups. Stir well to combine and bring to a simmer. Remove from heat and serve immediately or refrigerate until ready to serve.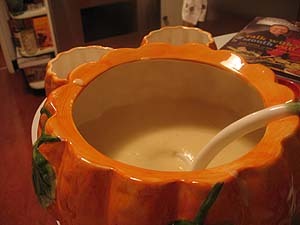 For a holiday garnish, cut shapes from sourdough bread using cookie cutters, brush on some olive oil and sprinkle with Parmesan cheese. Toast in the oven and serve with the bisque. Speaking of the bisque, it was so good and creamy — even subbing the half and half for the cream.

So, everyone get your cookbooks out (or even a food magazine) and find a recipe that could fit a Halloween theme, make it, post about it, and send me the link to your post by Monday Sunday, October 21st — you still have 6 days! I'll round them all up here shortly after the due date.