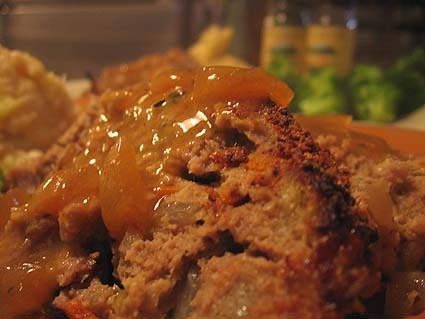 Recently, it has come to my attention that October 18th is National Meatloaf Appreciation Day. A big thank you to Serious Eats for bringing the enlightenment and for also hosting an event just for all the meat loaves and their special day.
I have been trying to recreate and perfect a meatloaf that I had about nine years ago, while living in California. jwa and I had gone shopping for something and ended up at the California Cafe by the Stanford Mall for an early dinner. They had a chicken, apple and dijon meatloaf for a special which I ordered and loved — it was the greatest meatloaf I had ever had.
Much to jwa's dismay I have tried to recapture this awesomeness on a plate all these years since but now….I think I've finally gotten it (or something I like just as much).
My version has turkey instead of chicken but it's close enough. And jwa liked it too — a lot! Which is amazing as, although he did like the Montana meatloaf, generally, he's not a huge fan of big meaty loaves. In all honesty, I am not either — at least not the beef or beef/pork/veal varieties, hence my collection of previous turkey meat loaves.
So, anyway, there you go. A mostly-meatloaf-disliker likes this meatloaf a lot and a turkey-meatloaf-liker loves this meatloaf. How's that for a recommendation?
Turkey Meatloaf with Apple, Dijon and Carrot or (This is not the greatest meatloaf in the world — no, it's just a tribute)
1 medium white onion, diced
1/2 cup shredded carrots
1 green apple, grated (do not squeeze the juice out)
2 big cloves garlic, minced
1 tbsp olive oil
1.5 lb ground turkey
.25 lb sweet pork sausage (you can also use pork sausage in a casing, just remove the casing — that's what I did)
1/2 cup fresh bread crumbs
2 eggs
1/4 cup Parmesan cheese, grated
3 tbsp dijon mustard
1 tsp fresh thyme leaves
1/2 tsp fennel seeds
salt and pepper
glaze + topping:
1 tbsp honey
2 tbsp dijon mustard
pinch of dried thyme
2 tbsp Parmesan cheese
canola oil spray
Okay — here we go. Preheat the oven to 350 degrees. Heat the oil in a skillet and saute the onion until soft — about 3-4 minutes. Add the fennel seeds and the apple and carrot. Continue to saute until any apple liquid evaporates and everything gets just a little color, about 3-4 minutes more. Remove the pan from the heat and let the veggies cool off in a big bowl.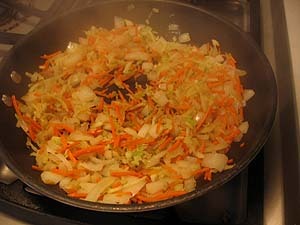 Add the turkey, pork, breadcrumbs, eggs, cheese, mustard and thyme to the big bowl with the veggies. Add about one teaspoon salt and a half of a teaspoon freshly ground pepper. Mix it all up with your hands. It'll be cold. That's okay, it builds character.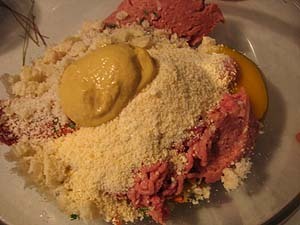 Put your meatloaf mixture into a loaf pan. I like to go around the edges with my fingers and push down a little so there's an indentation so that any juices can run off to the side.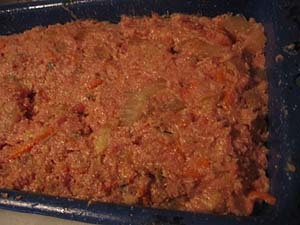 Once the meat is safely in the pan, make a little something-something for the top. Mix the mustard with the honey and the pinch of dried thyme. Spread over the top of the meatloaf and sprinkle with some Parmesan. Give it just a quick, little spray with canola oil to encourage browning.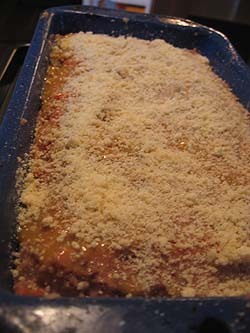 Okay, fine, so I used a bit more cheese…
Bake in the oven about 45 minutes at 350 degrees. Then, turn the oven up to 375 for 15 more minutes of cooking. This extra blast of heat at the end should ensure you have a nice, toasty crust. After the one hour total baking time, take it out and check the temperature. If it's at least 165 degrees (it'll probably be a bit over that temperature), you're good to go. Cover loosely with some foil and let it rest for 10-20 minutes.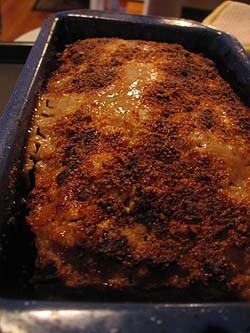 Now, when you turn the heat up (about 15 minutes before it's done) you can start a quick pan gravy.
Quick Pan Gravy
1 tbsp butter
1/2 white onion, diced
1 clove garlic, minced
1 tbsp flour
1 tbsp dijon mustard
1 cup chicken broth
1/2 cup white wine
1/2 tsp thyme leaves
Salt and pepper
Saute the onion in the butter over medium-low heat until softened and a bit golden — about 15 minutes. Add the garlic and and give it about 4-5 more minutes. Now add the flour and cook a minute or two. Add the stock, wine and mustard. Whisk and bring to a boil. Turn down and simmer until the meatloaf is done resting.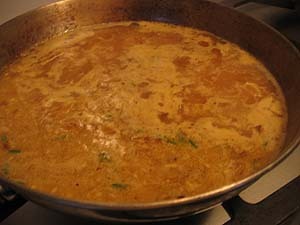 Oh, here's what else you can do if you are in a daring sort of mood — grab the meatloaf pan with some oven mits. Bring it over to the pan of gravy and tip it slightly so that some of the meatloaf juices pour into your pan gravy. See, this is where the indentations around the meatloaf in the pan help out. And, I think this goes without saying, but don't drop the whole meatloaf into the gravy pan! Next, your meatloaf safely back on the counter, add the thyme and salt and pepper the gravy to taste.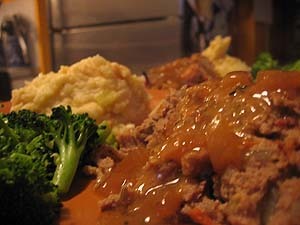 Slice the meatloaf (ours was so moist it was a little hard to get it out in perfect slices that were all in one piece) and serve with the gravy drizzled over it. Simple steamed broccoli and buttermilk mashed potatoes make great sides!
And, wow, this was soooo good. This was the first time I added pork to the combo and I think that was what took it over the edge. I knew I had experienced a major turkey meatloaf breakthrough when jwa was all, "oh, can I take the leftovers for lunch tomorrow?" Ha! Victory is mine!
Thanks again to Serious Eats for hosting this event and giving meatloaf some love.