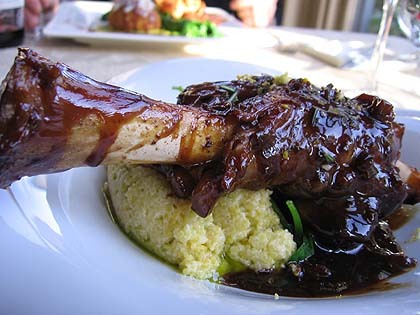 Winchester Inn
35 South Second St.
Ashland, OR 97520
541.488.1113
We typically go to Ashland every Fall — see some plays, eat some food, go on some walks, that sort of thing. We're heading off there this weekend and I thought it would be a good time to post last-Spring's-mini-trip-there pictures. We just stayed for one night with a deal through the Winchester Inn — tickets to a play, dinner discounts, a suite and breakfast the next morning.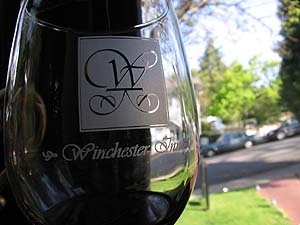 Our night started with dinner and a complimentary appetizer. In this case clams and mussels in a spicy, garlicky, winey broth. I have to say, neither jwa or I would have ordered this on our own but since it was brought to us for free, we dove right in, With some crusty bread it was really, really good. So good that at some point, I am going to try Tyler Florence's recipe for spaghetti and spicy, tomatoey clam sauce.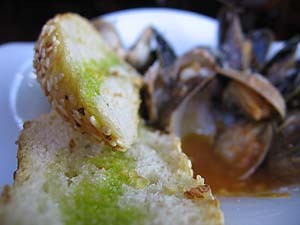 A big bowl full of mollusks
Next, I think I had some asparagus soup. I remember it being delicious. It had a rich, smokey flavor.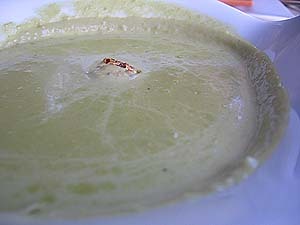 Here's a picture of a salad. I bet jwa had the salad. That's just the type of thing he would do…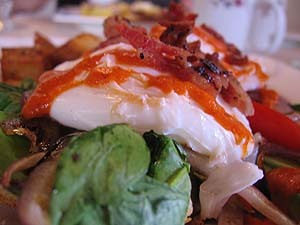 Although, upon further inspection, that might be something else. Oh, but I know it was tasty!
For my main course, I got this amazing braised lamb over polenta with rosemary and vegetables.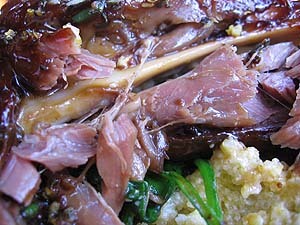 I think they still currently have it on the menu. Yep — they do: Braised lamb shank, basil polenta, with a braising sauce and Tangerine Rosemary gremolata. Wow, that was so good.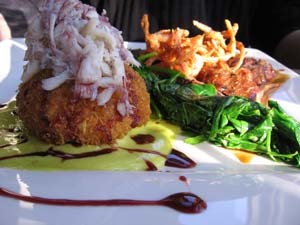 Surf & turf
jwa got the surf and turf special — a beef fillet, it looks like something crispy on top, something round and crusty (I'm going to guess this was a risotto ball) and crabmeat. Oh and sauces! A couple of different sauces. It was so good. I know because I tried some and he was raving about it as well.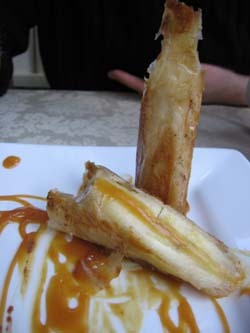 Dessert was a fried banana, caramel sauce and a pot of dark chocolate gelatto. So excellent. I hope that is still on the menu when we are there this weekend! Okay, I should probably go pack or something…

Oh, yeah — just a reminder about this month's weekend cookbook challenge! Make something Fallish and/or Halloween-y and send your post to me by by October 21!