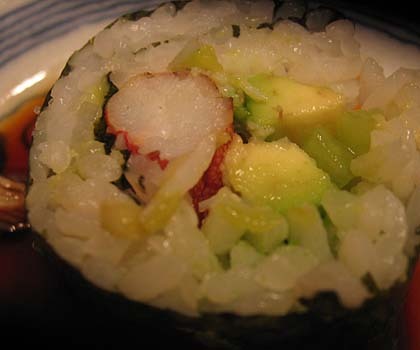 At work last Friday, there was a stack of seaweed packages for people to take home if they wanted to and do something seaweed-y with. Grabbing a package, I thought it might be fun for jwa and I to attempt to make sushi. After some contemplation, we decided to start simply, with just rice, cucumber, avocado and crab — a little like California Rolls.
We already had a day planned — breakfast at the Detour Cafe, a walk to OMSI and then I figured we'd hit New Seasons on the walk back home for rice and crab. Everything went perfectly to plan, except New Seasons was out of crab and we had to get that at Zupans. Bastards!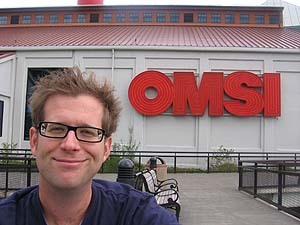 jwa outside omsi
Once at home and rice, veggies and crab prepped, we timidly began. The sushi mats were a little challenging to get the hang of and these were not the most attractive sushi rolls ever but they were good. I think we will be practicing our mad sushi rolling skillz this Fall and Winter and will, come Spring, make beautiful and lovely sushi together. Oh, just you wait….
Avocado and Crab-meat Sushi (for the timid but hoppeful)
This recipe is from Epicurius.com.
For the rice:
1 cup white short-grain rice*
2 tbsp rice vinegar
1 tsp sugar
1 tsp dry Sherry
1/2 tsp salt
1/2 avocado
fresh lemon juice for rubbing the avocado
3 pieces of toasted nori
1/2 cucumber, peeled and cut lengthwise into 8- by 1/4-inch strips
1/4 pound fresh King crab meat picked over and drained well
wasabi paste to taste for the sushi plus additional as an accompaniment if desired
soy sauce as an accompaniment
pickled ginger as an accompaniment if desired
Rice:
In a large fine sieve rinse the rice under running cold water until the water runs clear with no milky residue and drain it well. In a large heavy saucepan combine the rice with 1 1/4 cups water, bring the water to a boil, and simmer the rice, covered tightly, for 15 minutes, or until the water is absorbed and the rice is tender.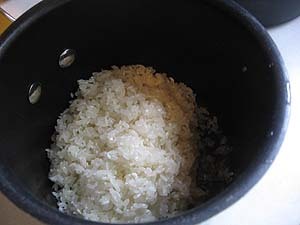 Remove the pan from the heat, let the rice stand, covered tightly, for 10 minutes, and transfer it to a jelly-roll pan, spreading it in an even layer. Keep the rice warm, covered.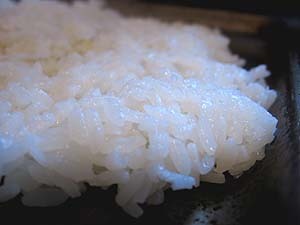 In a saucepan whisk together the vinegar, the sugar, the sherry, and the salt. Simmer the mixture until the sugar is dissolved, and let it cool. Sprinkle the rice with as much of the vinegar mixture as necessary to moisten it lightly, tossing it carefully, and cover it with a dampened cloth. (Do not chill the rice.) The rice may be made 3 hours in advance and kept, covered with the dampened cloth, at room temperature.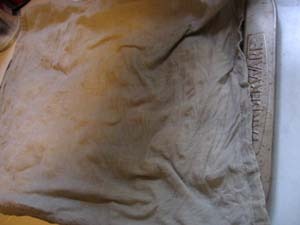 Now for the rest…
Peel and pit the avocado, rubbing it with the lemon juice, and cut it into 1/4-inch-thick strips.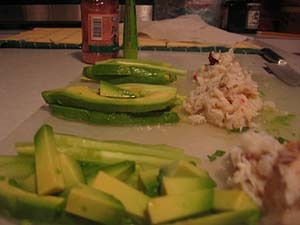 Working with one sheet of nori at a time and with a long side facing you, spread about 3/4 cup of the rice in an even layer on each sheet, leaving a 1/2-inch border on the long sides. Arrange some of the avocado strips horizontally across the middle of the rice and arrange some of the cucumber strips and the crab meat on top of the avocado.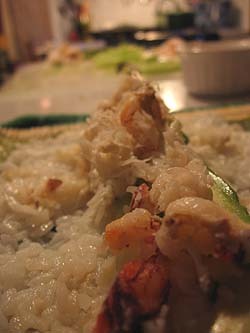 Dab the crab meat with the wasabi and beginning with a long side roll up the nori tightly jelly-roll fashion. This is a lot easier if you have a sushi rolling mat. Very inexpensive and a good kitchen investment.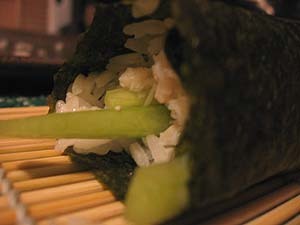 Cut each roll with a sharp knife into 3/4-inch-thick slices and serve the rolls with the soy sauce, the additional wasabi, and the ginger.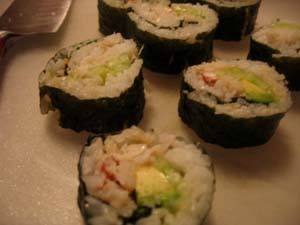 Divy up, eat and enjoy!
A Few Unrelated Words on Shoes…
I have been thinking about shoes lately. Although I have a fond place in my heart for most footwear, I've been thinking about wedding shoes specifically. I called a bridal place by work to ask if they had shoes. The conversation went a little like this:
Me: Hi. I was wondering about your bridal shoe collection.
Her: Silence.
Me: Uh, I mean, you have shoes, right?
Her: Yes.
Me: Is there a large selection? Or at least, are there different sizes available?
Her: Well, we have sizes between 6-8 and then you have to special order everything.
Me: Huh. Um, how does that work if you don't wear a 6, 7 or 8? How do I know if the shoe fits?
Her: Pause. Well, I guess you don't for sure. You just have to order it.
Me: Okay. Thanks.
WTF? Seriously? A dress I understand. You try on what they have and then order one in the closest size based on your measurements and then you have alterations as needed. But hello? They don't alter a shoe. Would it kill them to just have like a variety of sizes available to at least see how different brands fit?
I was so irritated that I decided to just order shoes online. Free shipping and I can return them for free if they don't fit. Take that, bridal shop industry.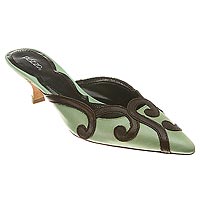 Possibility #1 — on sale for $49.00 — matches the wedding colors of green and brown — bonus points for not being white or ivory. Ha!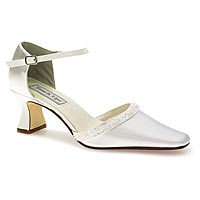 Possibility #2 — $54 — white but dyeable. I'll probably dye it with green tea, going for an off-white, pale, pale green color.
We'll see which fits best and which is the cutest. Hopefully it'll be the same shoe. In either case, I have to guess at sizing but at least I get free shipping, better pricing, free returns and less stupidity.