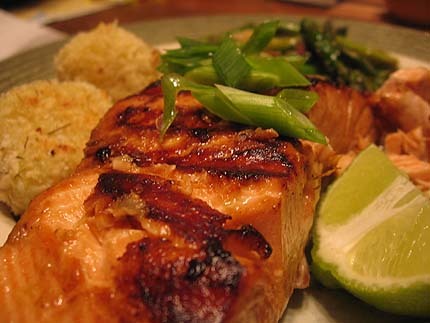 I have been wanting to make this recipe for the longest time — Ina Garten's Asian Marinated Salmon. I made it as written, except I added 1 tablespoon of honey to the marinade. And okay, I used a grill pan.
Fine, I also only used 1 pound of salmon instead of a whole side of salmon. But c'mon, that would have been super-duper expensive and a lot of fish for two people.
You might notice that there aren't any prep pictures here. Well…jwa brought the camera to work and I didn't have it to take pictures while making dinner. So sad.
Asian Marinated Salmon
1 lb wild salmon (the marinade below will accommodate up to 3 pounds)
For the marinade:
2 tbsp Dijon mustard
3 tbsp soy sauce
6 tbsp olive oil
1 tbsp honey
1/2 tsp minced garlic
Garnishes: chopped green onions and lemon or lime wedges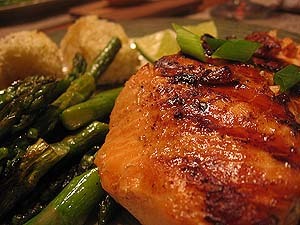 Whisk together the mustard, soy sauce, olive oil, honey and garlic in a small bowl. Drizzle half of the marinade onto the salmon and allow it to sit for 10 minutes.
Heat up a grill pan and brush lightly with oil. Alternately, you can light charcoal briquettes in a grill and brush the grilling rack with oil to keep . . . → Read More: Happy Halloween: Asian-Marinated Salmon + Wasabi Potato Balls