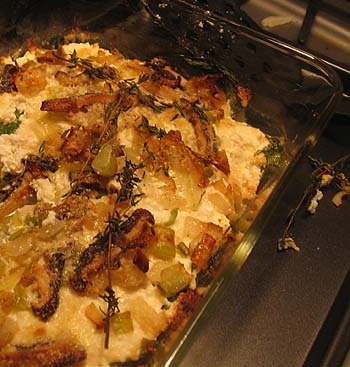 So, I was all set to do an Indian-inspired Mahi Mahi next when Guilty Carnivore sung the praises of Tilapia in a recent comment. I am very easily influenced by the things that I read so I decided to pick some tilapia up on the way home last week — $5.99/pound at the Whole Foods by work (if I remember correctly). The Mahi Mahi in the freezer will have to wait until next weekend. I'm sure the Mahi Mahi won't mind — it's hanging out by some vodka.
I wasn't sure of what to do with the tilapia first. I saw a recipe where prosciutto is wrapped around it and the fish is grilled with sage. I even considered throwing some Parmesan into that equation, but after being mocked by jwa last week for cooking fish with bacon, I decided to try a different approach this time.
What I ended up with was actually pretty good — kind of like a fish lasagna. Both jwa and I agreed that we would definitely eat it again. And there was no bacon or pork products involved at all! Hooray! (or boo!) — I don't know which one.
Baked Tilapia Layered with Ricotta . . . → Read More: Economical Fish Experiment #2: Baked Tilapia Layered with Ricotta and Vegetables