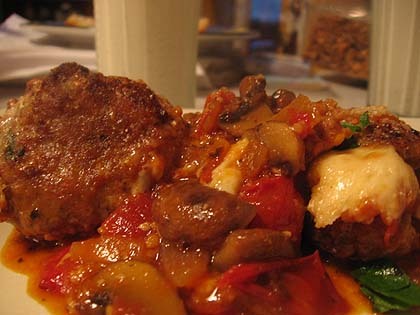 Meatballs, fries and shakes are not really a sensible dinner — I think that is the point. What else would you eat while watching the Aqua Teen Hunger Force movie? Exactly. When we netflixed this a couple of weeks ago this is what we dined on. I think I was still inspired by the Weekend Cookbook Challenge a couple of months back.
I made turkey meatballs instead of the sirloin/pork mix below and also substituted a few other things. I've listed my subs below in parenthesis. As far as the movie was concerned, we both enjoyed it…although, I was a bit disappointed there was no Happy Time Harry. Oh well.
Meatballs al Forno
Oh! Oh! This recipe if from Tyler Florence…
1/2 baguette, crust removed
1 1/4 cups milk
1 1/2 pounds ground beef sirloin (I used all ground turkey for slightly less meaty and slightly healthier meatballs)
1 1/2 pounds ground pork
1/2 bunch fresh parsley
1/2 bunch basil
2 cloves garlic, finely chopped
1/2 cup extra-virgin olive oil, plus extra for drizzling
4 eggs
1/2 cup freshly grated Parmesan
1/3 cup ground pine nuts
Sea salt and freshly ground black pepper
1 cup dried bread crumbs
1/2 pound chanterelle (or other) mushrooms — I used cremini
2 pints vine-ripened small tomatoes (I used garden tomatoes — a mix of romas and early girls)
1 medium ball fresh mozzarella (I used some smoked mozzarella)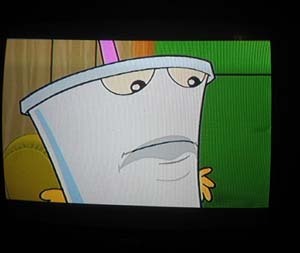 Preheat the oven to 350 degrees F. Break the baguette in pieces and soak in a bowl with milk for 10 minutes until the bread is soft. In a second bowl mix the beef and pork (or ground meat of choice) together. Twist up half the parsley and the basil into a little pile, roughly chop it and add to the meat. Add garlic and mix thoroughly with your hands. Squeeze the milk out of the bread and add it in small pieces.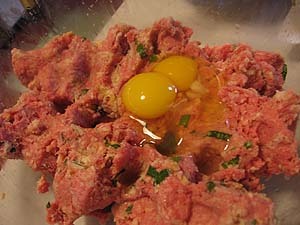 Now, add eggs, Parmesan, ground pine nuts, salt, and pepper and mix everything together thoroughly. Shape the meatballs into large patties then roll them in the bread crumbs. Sing the Aqua Teen Hunger Force theme while rolling the meatballs er…meat wads.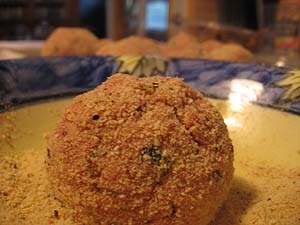 In a large skillet heat the olive oil over medium high heat until it begins to smoke slightly. Fry the meatballs to seal the crust, flip them over so both sides are done. Transfer to a large baking dish.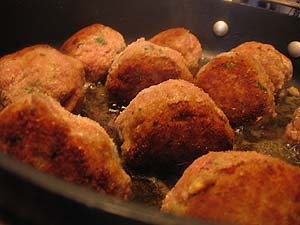 Next, add a splash of oil to pan and fry the mushrooms on a low heat until they start to caramelize.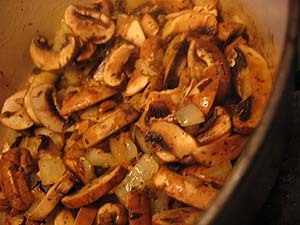 Cut the tomatoes in 1/2 and hand-crush them into a separate bowl. Drizzle with olive oil. Add salt and a few cranks of fresh cracked pepper and mix. Add to the mushrooms. Let everything simmer together and reduce slightly for about 10 minutes. Pour the tomatoes and mushrooms over the meatballs.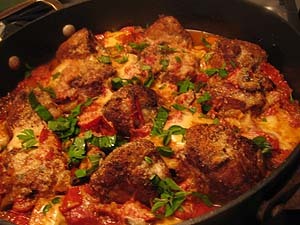 Shred the remaining basil and parsley and the mozzarella over it. Drizzle with olive oil and add a few cranks of pepper. Bake for 25 to 35 minutes.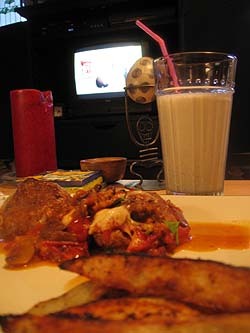 Remove and serve over creamy polenta, or if you are going for that ATFH vibe, you will have made yourself some seasoned oven fries and vanilla frozen yogurt shakes to accompany your meatballs.