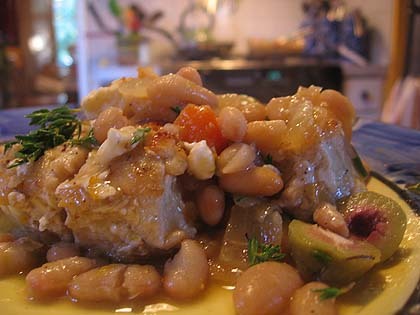 First off, goodbye Summer theme…hello again Autumn theme! I've missed you!
Now, this recipe is from my friend Vanessa. We met at DePaul freshman year of college and then both transferred to other places. We managed to stay in touch for a few years after school, then kind of went on with our lives for a few years after that and just recently got back in touch. Hooray!
She even gave me this awesome recipe for tuna and white beans as a great week night, comforting, quick dinner. It really is…and it fits right in with my (and jwa's reluctant) goal to eat more economical fish. Frozen tuna is about $6.99/pound at Trader Joe's. That's vs. about $20/pound fresh. So, while I will always love the fresh, seared, rare ahi more than anything, it's good to have a few tricks with frozen tuna. Add this to the list because it's great!
I didn't change much from the original, but I did add orange and olives. That's what so great about this recipe — you can really alter it to fit what you have on hand or flavors that you are in the mood to eat.
Baked Tuna & White Beans from Vanessa
1 medium to large onion, roughly chopped
1 large carrot, chopped
4-5 medium garlic cloves – crushed and roughly chopped
2 cans Cannelloni beans, drained and rinsed
1 lb tuna (defrosted frozen is really good for this — albacore or ahi)
salt and pepper
Olive oil
2 sprigs fresh thyme
Optional: 1 orange, zested and juiced
1/4 cup green olives
Saute onion along with the carrots in olive oil until the onions are translucent. Add garlic and cook (but don't brown).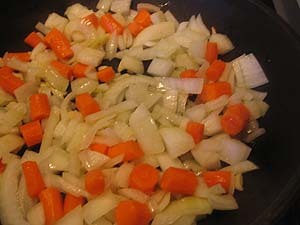 Next, throw in drained beans just to get them fusing with onion/garlic/olive oil. Add the orange zest and juice. Salt & pepper to taste.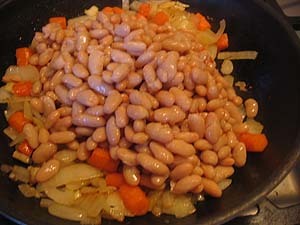 Preheat oven to 350 degrees. In a casserole dish, add half of the bean mixture to bottom. Sprinkle the beans with half the thyme leaves. Cut tuna into 4-6 chunks so it cooks faster and put on top of beans.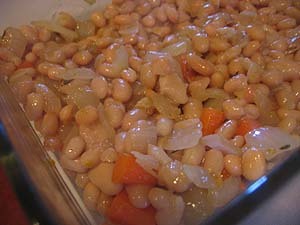 Dump other half of bean mixture over top of tuna. Drizzle with little more olive oil and the feta cheese.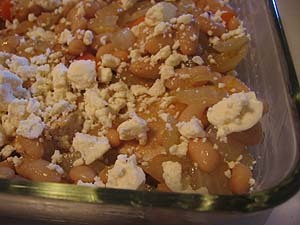 Bake (uncovered) for about 20 minutes or until tuna is cooked/flaky. Before serving, use a spoon to stir everything up so that tuna flakes and is distributed (in small flakes) through beans. Serve with more fresh thyme and green olives.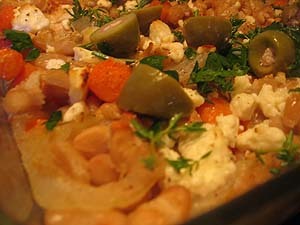 You could also use fresh basil and Parmesan in place of the thyme and feta. Vanessa first described with with the parm and basil, which I would have done, except the garden thyme was much closer to the kitchen door and it was raining. So there. Also, if you use basil, just add that at the end, after it comes out of the oven.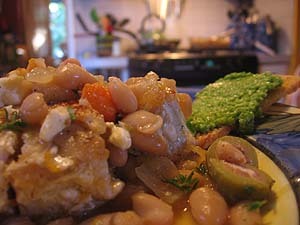 Here the meal is with some tasty crostini slathered with arugula pesto. How did I make that? Well, a few very big (overflowing, really) handfuls of arugula leaves, about 1/4 cup toasted hazelnuts, 1/4 cup parmesan cheese, 2 garlic cloves salt and pepper. Add to a food processor and combine. Stream olive oil in until it's smooth and looks like pesto. Get a big bowl of pasta, some crostini or a spoon. All done.
Okay, now off for a bike ride with jwa!