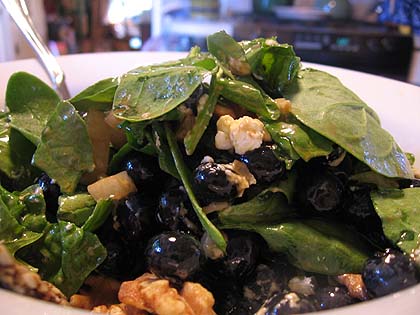 So, you might think that with a week off, I would be all lazy this week and not post. Nope. A really tasty salad today and hopefully, a tribute to Julia Child tomorrow. After that? Yep, probably lazy.
This was a quick meal for a hot day when jwa was working late and I wanted a big bowl of…something. Thankfully, it was too hot for pasta so a salad worked out perfectly. For the dressing, I didn't really measure, I just know I used the ingredients in the ratio listed below. Start there and tweak as needed.
Blueberry-Goat Cheese Spinach Salad
1 bunch spinach, washed and torn (or baby spinach)
1 pint blueberries, washed
1/4 cup walnuts, toasted
1/4 – 1/2 cup crumbled goat cheese
2 tbsp Walla Walla onion, diced finely (or any sweet onion will work)
Dressing
1 part honey
2 part balsamic vinegar
3 parts extra virgin olive oil
salt & pepper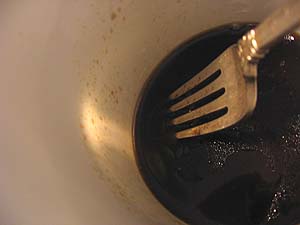 Make the dressing:
In a small bowl or mug, whisk the honey and vinegar together. Slowly drizzle in the oilve oil. Season to taste with salt and pepper and adjust anything else. Done.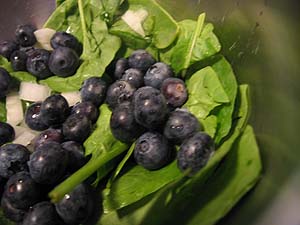 Salad:
In a big bowl, add the spinach, onion, blueberries, cheese and walnuts. Toss. Drizzle dressing to your liking and toss again. Done. Eat. Mmmm…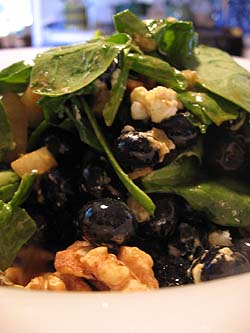 In wedding news, my dress is in! Hooray. I go pay the balance Wednesday and then they store it for me until, like, March and then I start the fittings for it. It's so weird, there was a big flurry of activity a couple of months ago with the location, photographer, caterer and officiant and now, there's like nothing to do for a while. I guess the next thing we'll do is find a musician but probably not until this Fall or so. Ho-hum.