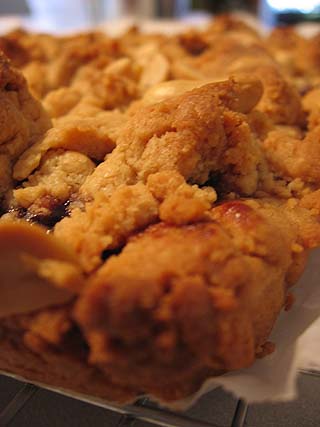 As the title suggests, this is a recipe by Ina Garten. I saw her make them last week and immediately went to see if we had all of the components on hand. We did, except for some peanuts. No problem though, as we had some trail mix in the fridge. Trail mix with peanuts! Just sorted some out of there and I was good to go.
When I made these, I did a half recipe of what's listed below. I found that the half size fit well in a square, brownie-shaped pan. Use really good jam — we used this homemade stuff we get at the open produce market on Hawthorne. I forget the name right now, as we just always call it Produce Pete's — but I know that's not it. But there's a "P" in there somewehere.
Barefoot Contessa's Peanut Butter & Jelly Bars
1/2 pound (2 sticks) unsalted butter, at room temperature
1 1/2 cups sugar
1 tsp pure vanilla extract
2 extra-large eggs, at room temperature
2 cups (18 ounces) creamy peanut butter
3 cups all-purpose flour
1 tsp baking powder
1 1/2 tsp kosher salt
1 1/2 cups (18 ounces) raspberry jam or other jam
2/3 cups salted peanuts, coarsely chopped
Preheat the oven to 350 degrees F. Grease a 9 by 13 by 2-inch cake pan. Line it with parchment paper, then grease and flour the pan.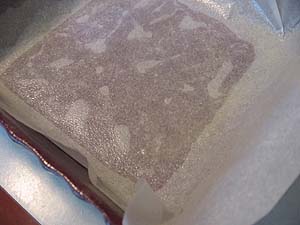 In the bowl of an electric mixer fitted with the paddle attachment, cream the butter and sugar on medium speed until light yellow, about 2 minutes. With the mixer on low speed, add the vanilla, eggs, and peanut butter and mix until all ingredients are combined.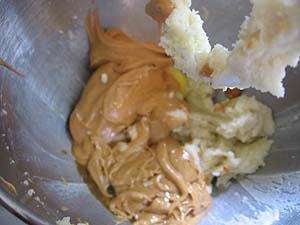 In a small bowl, sift together the flour, baking powder, and salt. With the mixer on low speed, slowly add the flour mixture to the peanut butter mixture. Mix just until combined.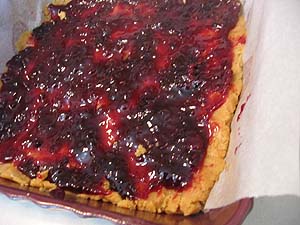 Spread 2/3 of the dough into the prepared cake pan and spread over the bottom with a knife or offset spatula. Spread the jam evenly over the dough. Drop small globs of the remaining dough evenly over the jam. Don't worry if all the jam isn't covered; it will spread in the oven.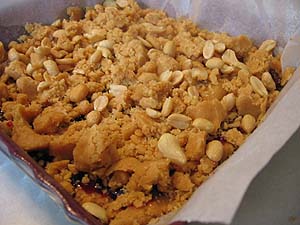 Sprinkle with chopped peanuts and bake for 45 minutes, until golden brown.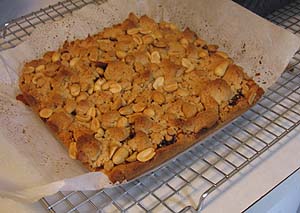 Cool and cut into squares.