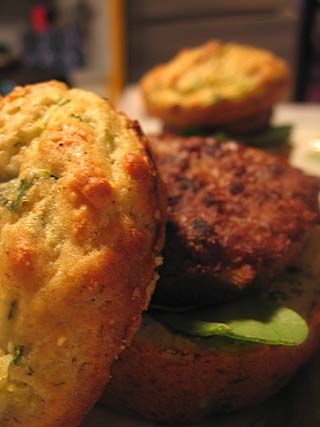 I love these muffins — for they helped me use up some zucchini and the pepper and parmesan is a nice change from the typical zucchini bread spices. Also, sliced in half with a sausage patty in between makes a great breakfast!
You could also easily turn this into zucchini bread, just start checking on it's doneness after about 35 minutes or so. If I had to guess, I'd say 45 minutes for bread.
Zucchini Basil Muffins
Adapted from Gourmet Magazine
1 1/4 cups all-purpose flour
3/4 tsp salt
1/2 tsp baking soda
1 tsp double-acting baking powder
1/2 tsp black pepper
2 tbsp vegetable shortening, softened
1 tbsp sugar
1 large egg
1/2 cup buttermilk (add more if it doesn't seem moist enough — I think I used somewhere between 1/2 – 3/4 of a cup)
1 1/4 cup coarsely grated, well-scrubbed and drained well zucchini (about 2 medium)
1/4 cup finely chopped fresh basil leaves
2 tbsp + 2 tsp Parmesan cheese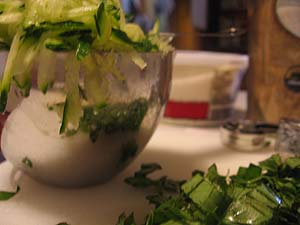 In a small bowl whisk together the flour, salt, baking soda, baking powder, 2 tablespoons of cheese and the pepper.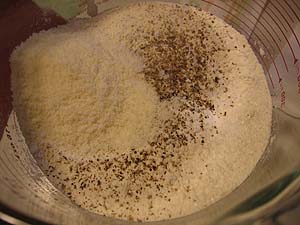 In a bowl cream together the shortening and the sugar, beat in the egg and the buttermilk, beating until the mixture is combined well. . . . → Read More: Breakfast for the Hungry & Still a Bit Sleepy: Zucchini, Basil & Parmesan Muffins