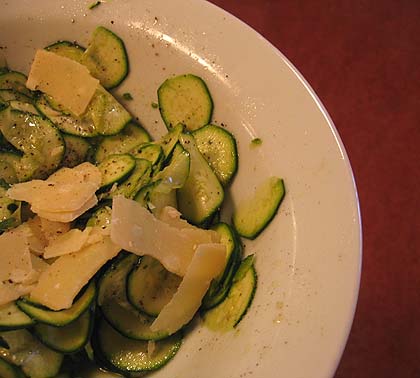 This makes a great side dish. We just had it recently, if I remember correctly, with some chicken. See — that's how good it was, I can't even remember what we had it with!
The original recipe layered individual servings with the mint, olive oil and lemon. I just tossed everything in a bowl. You do what you need to do.
Zucchini Carpaccio Salad
Recipe based on one from Gourmet magazine
4 small zucchini (1 lb total)
1/3 cup loosely packed fresh mint leaves
2 tbsp extra-virgin olive oil
2 tsp fresh lemon juice
1/4 tsp sea salt
1/4 cup pine nuts (1 oz)
1 /4 shaved Parmigiano-Reggiano cheese
Cut the zucchini into thin slices. You can use a mandoline (not the instrument!) or the slicer part of a box grater. I used the grater — worked well. Put zucchini in a large bowl, one that will give you enough room to toss everything.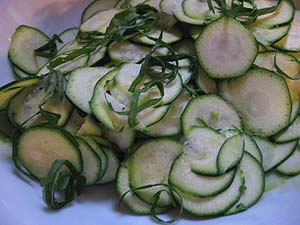 Make stacks of mint leaves and cut crosswise into very thin slivers, then sprinkle over zucchini. Whisk together oil and lemon juice in a small bowl, then drizzle over zucchini. Sprinkle with sea salt, pepper to taste, and pine nuts. Let stand 10-15 minutes to soften zucchini and allow flavors to develop.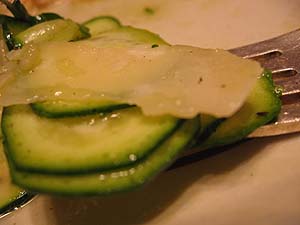 Just before serving, sprinkle the shaved cheese over the zucchini. A few extra grinds of pepper never hurt anyone, either.
***
Meeting with a wedding photographer tomorrow. Yay!