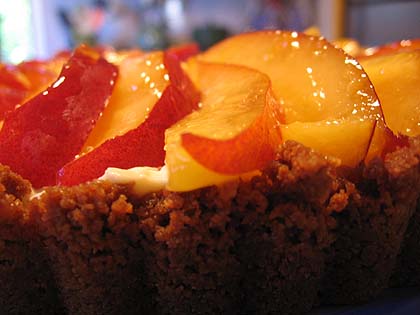 This recipe is from Bon Appétit magazine and makes a great Summer dessert. I thought the filling maybe needed a bit more ooomph — next time, I may add a teaspoon or two of orange or lemon liqueur. Of course, this might also be because I used "light" cream cheese. Perhaps that was a mistake. Next time? Bring on the fat.
To get the crust nicely padded into the tart pan, I usually use a shot glass to help flatten the bottom and press the sides up. This works very well. I forget where I learned that tip but I did not make it up myself.
Use ripe, tasty nectarines for this — you will not be sorry.
Crust
25 gingersnap cookies, coarsely broken (about 6 ounces; about 2 1/4 cups pieces)
1/4 cup (1/2 stick) unsalted butter, melted
Filling
1 8-ounce container mascarpone cheese
6 ounces cream cheese, room temperature
1/4 cup sour cream
1/4 cup sugar
1 tbsp grated lemon peel
1/4 tsp vanilla extract
1 tbsp finely chopped crystallized ginger
Optional: 1-2 tsp of your favorite citrusy liqueur (Grand Marnier? Limoncello?)
Topping
4 to 5 small nectarines, halved, pitted, cut into thin slices
1/4 cup peach jam, warmed
2 tbsp finely chopped crystallized ginger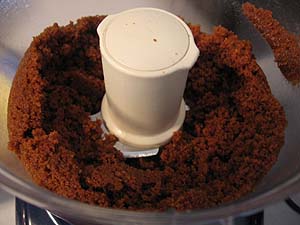 For crust:
Preheat oven to 350 degrees. . . . → Read More: Nectarine & Marscapone Tart with a Gingersnap Crust