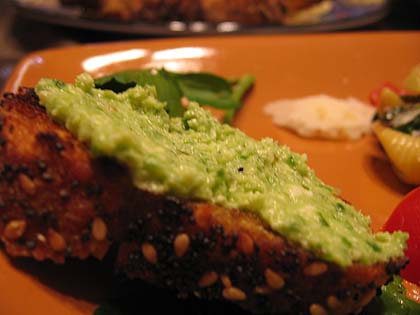 I was in New Seasons the other day buying some halibut and as I was walking through the produce sections I saw the cutest thing — garlic tops.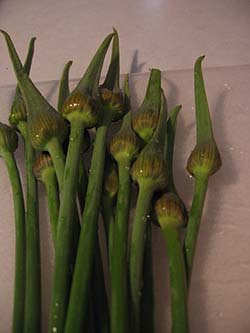 "Oh!" I thought to myself, "need to buy! Cuuute!"
Then I got home and realized I had no idea what to do with them. I did a little online searching and found this page — Mary Jane's Farm about garlic scapes, which I think are slightly younger versions of my tops but I figured it was close enough.
I made the pesto, using half parm and half feta. I also added some pine nuts. Wow! The garlic! It burns! (But in a good way). I mixed about a tablespoon into a big bowl of hot pasta with some olive oil to start, as it did seem a little strong. But — by the middle of the meal, jwa and I were spreading the extra pesto on bread and mixing more of it into the pasta. So, so good. Just make sure you really like garlic.
Garlic Tops Pesto
1/2 cup grated Parmesan cheese
1/2 cup crumbled feta cheese
3 tbsp lemon juice
1 tbsp toasted pine nuts
1/4 lb scapes (garlic tops)
1/2 cup olive oil
Salt and pepper to taste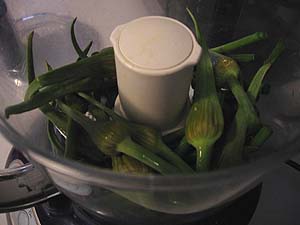 Puree the garlic tops and olive oil in a food processor until smooth. Add the Parmesan, feta, lemon juice and pine nuts and process it all until nice and smooth.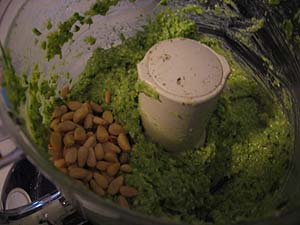 Season to taste with salt and pepper. Serve on bread, crackers or with pasta (or all of the above).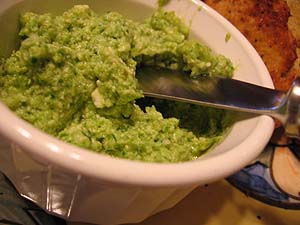 So what else did we have with our garlic top pesto and pasta? Grilled halibut with this awesome marinade.
Awesome & Simple Halibut Marinade
4 tbsp olive oil
2 cloves garlic, smashed
1/2 tsp dried thyme
2 tbsp balsamic vinegar
Let fish marinate in the fridge for about an hour. Salt and pepper liberally, then grill in the ol' grill pan.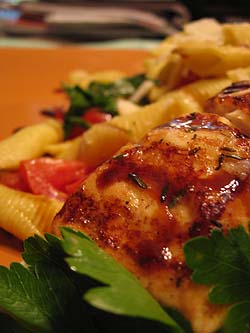 It turned out really nice and moist and was excellent with the side of pasta, tossed with cherry tomatoes, spinach and garlic top pesto.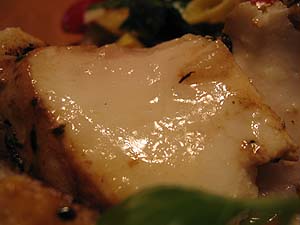 I even brought out the balsamic glaze and drizzled a little over the fish and pasta to make it all look pretty.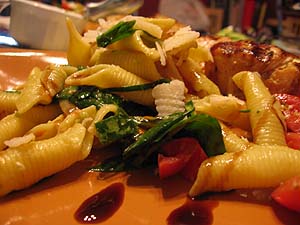 See? Pretty!
***
In wedding news, I made the lodging reservations for most of the honeymoon in Victoria here. It'll be nice to have a kitchen while we're there. We're also going to rent a car and drive up to Tofino for 3-4 days. We're going to splurge and stay here. So very excited!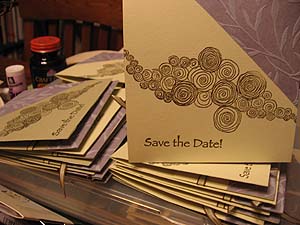 Also, I finished making the save the date cards and I should be able to get them in the mail in early/mid June (waiting on vellum envelopes and nifty return address stamp).